Things You'll Need
Marker

Tape measure

1 1/2-inch hole saw

1-inch drill bit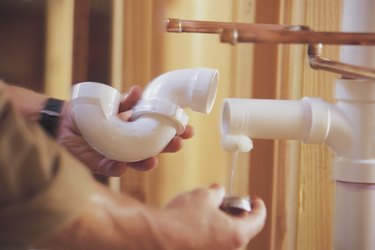 Rough-in plumbing refers to the spacing of drains and supply lines as they're laid, but prior to the installation of clamps, valves and other fittings. In essence, rough-in plumbing is the bare-bones outline of plumbing. When installing a vanity, you must rough in three pipes: the drain and two supply lines for hot and cold water. Roughing in plumbing involves measuring, cutting and a basic knowledge about plumbing in a bathroom.
Step 1
Measure the height of the vanity from the top of the sink to the floor.
Step 2
Place a tape measure against the wall where the vanity is to be installed with the top of the tape against the floor. Make a mark on the wall at the height of the vanity.
Step 3
If you plan on installing the sink drain against the wall, measure half the distance from the mark to the floor and make a second mark on the wall. If the drain will be installed on the floor under the vanity, make a mark on the floor at the approximate center of where the vanity will be located.
Step 4
Attach a 1 1/2-inch hole saw to a drill and saw a hole in the wall or the floor where the drain will be located. This is where the drain pipe from the P-trap will be located upon installation.
Step 5
Decide whether the supply lines will enter the vanity from the wall or floor. Either is acceptable, but the selection will depend on where you plan to run the pipes from.
Step 6
If the supply lines will be installed in the wall, drill two 1-inch holes in the wall about 5 inches away from the drain hole. If the supply lines will be installed through the floor, drill two 1-inch holes in the floor about 5 inches on either side of the drain. The bathroom is now ready for the installation of pipes and fittings.
Tip
Use a stud finder to check the areas where you plan to drill holes to make sure there are no existing pipes behind the wall.