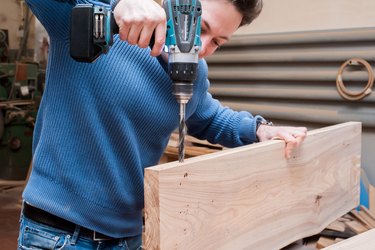 Hand drills were originally operated manually, although today there are power hand drills available as well. In more primitive times, hand drills were used as instruments to start fires. Today, they are typically used for building purposes, such as drilling holes and securing screws. They can also be used as a mixer to blend things, like paint.
The uses of a hand drill can vary depending on the type of drill you have. You can often perform more heavy-duty tasks with a power drill when compared with a manual hand drill. In addition, drills work with a number of attachments that are necessary to complete a task.
Hand drills can be equipped with drill bits and used to predrill holes. Other drill heads can be used to install or remove screws and bolts. Hand drills can also be used for sanding and cleaning. Sanding disc attachments are available to help make the process more efficient. You can also select from a number of different brushes, such as a scrubber brush, dryer duct cleaning brush or wire brush.
Attachments are available to mix things, like paint and joint compound. You can shape wood and plastic using a rotary rasp attachment with your hand drill. Of course, you can still use a hand drill to start a fire on your backcountry adventure. Drills with a log splitter attachment can also help you split firewood.
The term "hand drill" often refers to drills that are powered when you manually operate them. Typically, there is a drill bit on one end, and you operate the drill by turning the handle on the side, which in turn spins the drill bit. The power of the drill can vary depending on the effort used to turn the crank.
Some manual drills are designed so that you can support the other end of the drill against your chest for added leverage, and you operate the crank. A brace drill, on the other hand, has a side handle that you will rotate while supporting, or bracing, the drill from the top with your other hand.
Other types of hand drills don't rely on your manual labor. There is also a straight air drill that you can consider for working in smaller spaces. It operates using compressed air. Other hand drill options are typically battery-powered or corded and require an electrical connection to operate them.
Hand Drill Safety Considerations
Wear eye protection when using a hand drill. Remove loose jewelry and change out of any loose clothing.
When operating a hand drill, ensure that the bit is securely attached to the drill. Make sure that the bit or attachment you are using is suitable for the task and the material with which you are working. Smaller drill bits can typically withstand less pressure, so make sure not to press too hard or at an angle. Having a drill bit break or fly out while you are drilling can be quite dangerous. Drill bits can get dull over time. Make sure the ones you are using are sharp and in good shape.
Check that the material you are drilling is stationary and secure. You may need to use a vise or clamp to secure it to a bench if needed. Don't use a power drill in wet conditions or around any flammable materials.