Things You'll Need
Wooden treads

Stringer facade

Boards for risers

Balusters

Handrail

Metal handrail fittings

Electric screwdriver

Nails and screws

Stain or paint

Drywall

Joint compound

Paint

Wood molding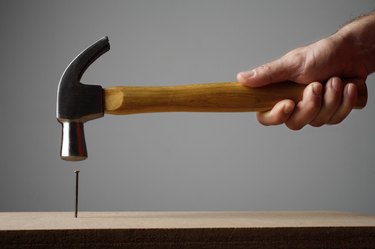 Rough stairs descending into a basement can look much better by finishing them. You can build a living area that is somewhat casual in the basement, but you don't want the steps coming down to look inferior to the room space. Builders often use leftover lumber from home construction to build basement steps. Later, homeowners are faced with redoing them to give them a more upscale appearance.
Step 1
Sketch the design of your existing steps on graph paper. Allow 1 inch of graph paper to represent 6 inches of real space. Draw how you wish to enclose the stairs from the side. For example, you can use a nice, wooden stringer to fit over the rough lumber in place. You can then Install wooden framing and drywall to enclose the wall below the finished stringer.
Step 2
Visit a lumber store to check out prices for stair treads, smooth lumber to enclose the risers and balusters to provide upright rails to support a handrail. Talk with sales persons about how to buy what you need to enclose the stairs but stay within your budget.
Step 3
Create a staircase that is no fancier than the room it will serve in the basement area, because staircase accessories for enclosing steps run into hundreds or even thousands of dollars. Enlist the help of a carpenter to help you figure exact dimensions. You don't want to cut balusters or treads with saws only to find they don't fit. Ask the carpenter to help you cut the pieces, and you can install them yourself if you have basic skills.
Step 4
Install all of the side areas, stair-riser enclosures and treads before you attempt to attach the railing and handrails. Paint or stain the stairs and let them dry before you work on the railings. Use an electric screwdriver to attach any parts of the stairs that will not show, but nail and glue any wooden parts that will be fully visible. Use nails you can countersink into the wood so they will not show. Ask a carpenter to guide you in the process, because basic carpentry skills are all you need to accomplish this.
Step 5
Paint or stain every other step if you will need to go up and down the stairs while they are under construction. It's best to go around the house to another entry and not use the stairs at all. Allow the steps to dry for 48 hours before you actually use them, because your shoes will make marks on freshly painted or stained wood that is still sticky. Finish the drywall sides of the stairs and paint. Install baseboard material at the bottom of the sides of the stairs.
Tip
Install baseboard materials, wood trim and crown molding in a basement area to match the finished stairs. If you build a well-designed bonus room, invest in staining versus painting the finished stairs and all wooden trim in the new room. Buy or build stained wooden furniture pieces to match for a complete designer look.