Things You'll Need
Drill with screwdriver bit

Light box

Drywall panels

Drywall jack

Sheetrock screws

Drywall taping compound

Taping tools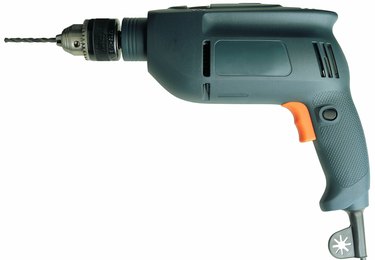 Drop ceilings, made from a grid and removable panels, are common in basements where plumbing and wiring exist in the space above the panels. A drop ceiling is lower than a traditional drywall ceiling, however, and if the homeowner wants more head room, he may replace the grid with a drywall ceiling.
Step 1
Remove the drop ceiling. The panels slip out by pushing up on one end of a panel and grabbing the side to remove it through the grid. Use a drill with a screwdriver bit to remove the screws holding the metal grid in place.
Step 2
Reroute any electrical wires, plumbing or ducts that run in the space above the drop ceiling. Depending upon your local building codes, you may have to hire a professional for one or more of these tasks.
Step 3
Replace the current ceiling light with a recessed light box. Since the drop ceiling was lower than the drywall ceiling will be, you must move the light box higher. Attach the new light box to a ceiling joist.
Step 4
Install the drywall panels, positioning them perpendicular to the ceiling joists. The drywall jack will lift and hold the panels in place while you insert drywall screws through the panels and into the ceiling joists. These panels come in various sizes, but use the largest panels you can safely manipulate to reduce taping.
Step 5
Apply drywall compound with a taping knife to the seams in the drywall. The compound shrinks as it dries, so you'll apply three or more thin coats for a smooth finish. After each coat, allow the compound to dry completely, and sand the rough spots before applying another coat.
Step 6
Paint or apply a spray-on ceiling texture to finish the drywall and install the new light fixture.
Tip
Install the drywall panels as tightly together as possible. Large gaps require more taping.
Warning
In addition to using licensed professionals for electrical or mechanical work, consider using a drywall contractor to install and tape out your new ceiling.