Aquariums can make an attractive decorative addition to any room; however, taking care of one can be time-consuming and expensive. An alternative to maintaining an aquarium full of fish is to set up a fake aquarium. Fake aquariums will give you the look you want without the work or the responsibility of keeping live creatures healthy. You can make your fake aquarium fun and whimsical or very realistic, depending on your preference.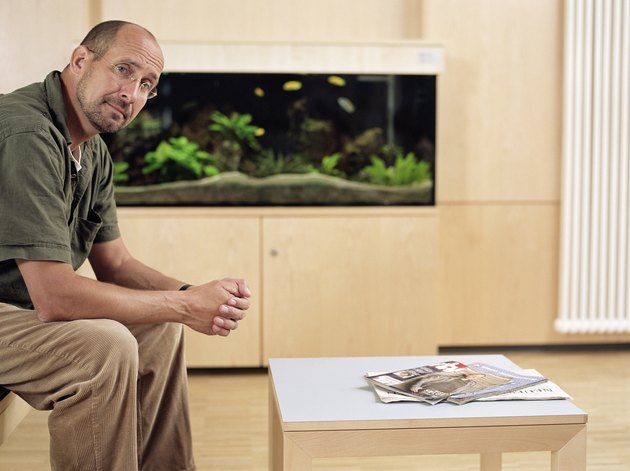 Things You'll Need
Cardboard file box with lid

Ruler

Pencil

Utility knife

Drop cloth or newspaper

Spray paint

Hot glue gun

Clear acetate sheets

Air-drying clay

Silk or plastic plants

Gravel

Fishing line

Fake fish

Glass tank

Air pump

Aquarium light

Aquarium decorations

Water
Dry Aquarium
Step 1
Remove the lid from your cardboard file box. Use a ruler and a pencil to mark a large square or rectangle on each side, leaving only a ½-inch border edge on all sides. Make sure the lines are straight. Cut out the shapes with a utility knife.
Step 2
Take the box outdoors or to a well-ventilated area. Place it on top of a drop cloth or newspapers. Spray paint the box both inside and out with an acrylic paint in the color of your choice. Spray paint the top of the box black.
Step 3
Glue sheets of clear acetate to the inside of the box, one on each side. This will make each side look like a glass panel.
Step 4
Mold two or three lumps of air-drying clay into a flat, ½-inch-thick disk. Push the ends of some silk or plastic plants into the clay, and arrange them to your liking. Allow the clay to dry, and arrange the disks inside your cardboard tank.
Step 5
Pour gravel into the tank to cover the bottom and the clay lumps. Add some pretty stones, crystals, corals or other undersea decorations to the bottom of the box.
Step 6
Use a dab of glue to affix a piece of fishing line to fake fish. You can use paper fish, plastic, rubber or gummy fish sprayed with a clear acrylic sealer. Affix the other end of the fishing line to the inside of the box lid. Place the lid on top of the box so that the fish attached to the fishing line hang down and appear to be suspended in midair inside the tank.
Wet Aquarium
Step 1
Purchase a fish tank or use a clear bowl of your choice. Place colored gravel in the bottom of the container.
Step 2
Place an air pump in the tank if you would like to generate bubbles. Add a cover with a light if you want illumination.
Step 3
Decorate the tank with fake flowers, coral, stones, driftwood and other items. You can purchase these from a pet store or use items you find elsewhere. You don't have to worry about toxicity, as there will be no live fish in the tank. Arrange the items to your liking.
Step 4
Fill the tank three-fourths of the way up with water. Add artificial floating fish, if desired.
Tip
Add a couple of tablespoons of chlorine bleach to water in your tank to keep it from getting slimy. Remove about 50 percent of the water every week and replace it with the same amount of fresh water. Add another tablespoon of bleach.
Warning
Never put real fish in a tank if you have added bleach.