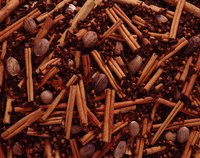 Primitive dolls, ornies, bowl fillers and other fabric prims usually look hurriedly stitched and thrown together. Odd-colored thread, mismatching eyes and sloppy seams are part of primitive crafting charm. Transforming your prims into a much loved or used item is easy to do. By applying a stain, you can grunge a prim, giving it a dirty look and feel.
Things You'll Need
Small bowl and spoon
Measuring cup and spoons
Instant coffee granules
Cinnamon
Nutmeg
Ginger
Vanilla
Hot water
Fabric prim item
Sponge paint brush
Cookie sheet
Aluminum foil
Oven
Sandpaper
Mix 1/2 cup of instant coffee granules, one tablespoon of cinnamon, one teaspoon of nutmeg, one teaspoon of ginger and one teaspoon of vanilla with one cup of hot water in a small bowl to create your grunge stain.
Paint the grunge stain on your fabric or stuffed prim item using a sponge paint brush. Sprinkle the wet prim item with more of the dried spices and rub them into the fabric.
Cover a cookie sheet with aluminum foil. Lay the wet prim on the cookie sheet and place in a preheated oven at 150 degrees.
Turn the grunged item every 10 minutes until it is dry.
Sand random areas of the grunged prim item to give it a worn-out look.