Vinyl records were a thing of the past, but you may still be hanging on to them wondering what can be done. If you don't know what to do with your old vinyl records, you can easily recycle them. You can hang them on the wall as artwork or turn them into an entirely different item, such as this bowl. Either way, it is very easy to turn that flat vinyl record into a decorative piece for your home. Just remember that vinyl is not food safe, so do not use it for food service in any way.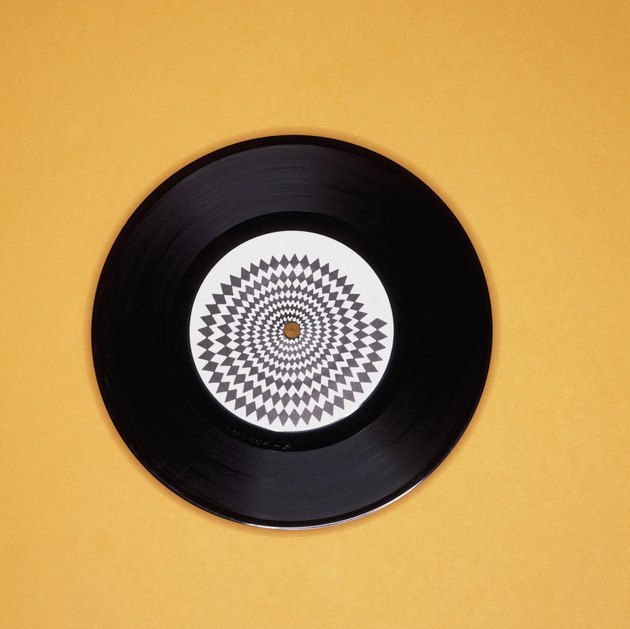 Things You'll Need
Vinyl record

Large bowl (ovenproof)

Cookie sheet

Oven

Potholder
Step 1
Preheat your oven to 200 degrees. Find an oven-safe bowl. It needs to be large enough so that when the record melts, it drapes over the sides of the bowl and will not touch the cookie sheet. A smaller bowl will not do.
Step 2
Turn the bowl upside down, and place the center of the vinyl record in the center of the bowl's base.
Step 3
Place the bowl on the cookie sheet. The metal cookie sheet is for flat support. Placing the bowl directly on the oven racks may render it uneven.
Step 4
Place the cookie sheet and bowl in the oven, and leave it in there for about 7 or 8 minutes. Check on it frequently by either switching the light on and looking through the window, or cracking the door open slightly to see if it is melting and forming properly.
Step 5
Put on your potholders and pull out the cookie sheet. Place it on top of the stove, and quickly peel off the record. Flip the bowl over and place the record inside of the bowl to keep the shape, and it will harden that way.
Step 6
Allow the record to cool completely, then lift it out of the bowl. You now have a homemade, recycled decorative bowl made from an old vinyl record.
Warning
Keep a kitchen window or door open for adequate ventilation. Avoid inhaling any fumes if at all possible.