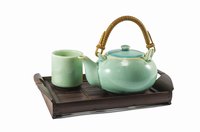 Placing hot dishes on your countertops and table can leave ugly damage, but hot pads don't always complement your table settings. Tile trivets provide stylish protection for your kitchen and dining room, and making them is a simple project requiring minimal supplies.
Things You'll Need
6-inch or 12-inch square ceramic tile
6-inch or 12-inch scrap plywood square
1/4-inch molding trim
Safety glasses
Saw
Sandpaper
Wood stain or paint (optional)
Wood glue
Polyurethane glue
Clamps
Wood stain or paint (optional)
Polyurethane
Foam sponge brush
Tiling adhesive sheets
Small tiles
Grout
Sponge
Felt scraps
Simply Stunning Style
Measure and cut four pieces of trim, each 1/4 inch longer than the side of your tile.
Sand the bottom and edges of the plywood and the cut edges of the trim.
Stain or paint the wood base and trim, if desired.
Spread polyurethane glue designed to adhere wood and ceramics onto the plywood.
Place the tile on the plywood, making sure the edges are aligned.
Clamp the pieces together and allow the glue to dry thoroughly. Remove the clamps.
Use wood glue to attach the trim to the edges of the base, lining up the edges and corners neatly.
Clamp the trim in place and allow the glue to set completely. Remove the clamps.
Seal all of the wood surfaces with a light coat of polyurethane sealer.
Glue small squares or circles of felt to the corners of the base with wood glue to protect counter or table surfaces from scratching.
Traditional Tiling Techniques
Measure and cut a square of the adhesive sheet to match the size of your trivet base.
Attach the adhesive to the sanded plywood base according to the manufacturer's instructions.
Lay out the tiles in your desired design.
Remove the protective sheet on the top of the adhesive.
Adhere your tile design by pressing each piece onto the adhesive, lining up the edges with the base.
Mix grout and water according to the manufacturer's instructions.
Spread the grout over the trivet, pressing it into the spaces between the tiles. Allow it to set for 30 minutes.
Wipe the surface of the trivet with a damp sponge to remove excess grout.
Allow the grout to set and dry thoroughly.
Glue felt pieces to the bottom of the trivet.