Things You'll Need
2 balls worsted weight cotton yarn (10 oz. total)

Size J/10 crochet hook

2 yards floral wire

Crochet stitch markers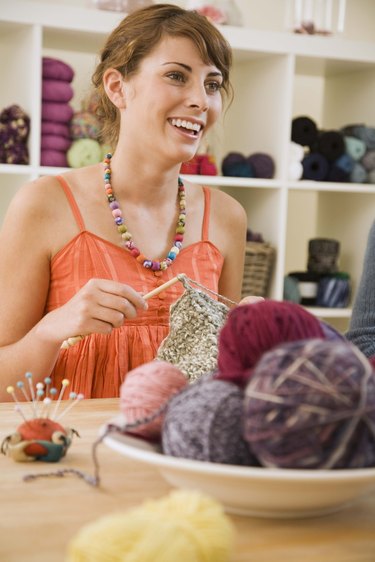 Learning how to crochet a cowboy hat doesn't have to be difficult, especially if you already have the basic crochet skills needed to read a pattern. Think of your crocheted cowboy hat as a sculpture and adjust the pattern as needed as you work. This pattern will help you crochet a cowboy hat for a child or an adult. When substituting materials, always crochet a gauge swatch before you start the project to ensure that your hat will turn out the right size.
Crochet Crown of Hat
Step 1
Chain 5, working with two strands of yarn together. Join in first SC to form circle and CH 1. Crochet 2 SC in each stitch and SL ST to join (10 sc).
Step 2
Increase each row using this pattern: (*2 SC in first ST, X SC) repeat from * until end of row, SL ST to join, and CH 1, where X = row number of the increase row you are working on (i.e., 2nd increase row, x=2, 5th increase row, x=5).
Step 3
Continue to increase by pattern until crown of hat fits crown of your head, average 6 increase rows. Do 5 increase rows for smaller heads, i.e., a child's, and increase up to 8 rows for those with larger heads.
Crochet Sides and Brim of Hat
Step 1
Crochet SC in each stitch around, SL ST to join and CH 1 at end of each row. Continue until the hat reaches the top of your ears. The hat should measure about 6 inches from the center of the crown to the bottom edge of the hat (average 10 rows).
Step 2
Working in front loops of STs, * (SC in each of next 8 SCs, 2 SC in next ST) repeat from *. Do not join at the end of this row. Instead you will work in a spiral to finish the brim. Use a stitch marker to mark end of rows.
Step 3
Crochet in both loops, SC the whole way around. Increase each row using this pattern: 1st row ( *2 SC in next stitch, X SC) repeat from * until end of row, where X = 5, 4, and finally 9. 2nd row, SC in each ST around. SL ST to join after the last increase row.
Step 4
Fold floral wire in half and form into a circle. Place the wire over the stitches in the last row of the brim. Chain 2 (counts as first reverse HDC), working your stitch over top of the floral wire and moving from right to left, reverse HDC in each SC until the end of the row. SL ST in second CH of beginning chain to join.
Step 5
Fasten off and weave in end. Shape the hat by gently bend the brim curved in at the sides to form cowboy hat brim.
Tip
Crochet Abbreviations SC – single crochet SL ST – slip stitch Reverse HDC – reverse half double crochet – yarnover twice, pull yarn through all three loops on hook, work from left to right CH - chain
Warning
Always check your gauge. You may need to adjust the size of your crochet hook to meet the gauge. With two strands of yarn held together, crochet 14 stitches and 14 rows SC = 4 inches.