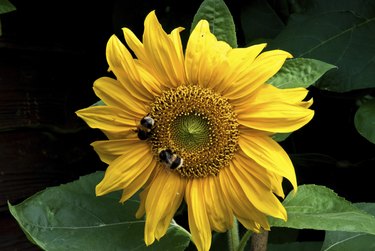 Besides providing large, colorful flowers in the garden and cut flowers for indoors, sunflower (Helianthus annuus) also produces quantities of nutritious, edible seeds. Native to North America, many different cultivars of sunflower exist, including special varieties bred specifically for seed production. Russian plant breeders created oil-rich sunflower seeds for sunflower oil production. Other strains yield snack foods and food for wildlife. It can be difficult to protect your sunflower seed crop from hungry animals, though, until it's ready for harvest and storage.
Flower Structure
Sunflowers are members of the daisy family, or Asteraceae. Flower heads that may appear as a single large flower are in fact composed of many individual flowers or florets. The sunflower's central area is called the disk. Small, tubular flowers crowd the disk, with their bottom ends embedded into the fleshy base of the flower head. Disk flowers produce the seeds, with each floret developing a single seed at its base. Surrounding the disk flowers are ray flowers, each with a straplike petal that points outward. These don't develop seeds.
Growing Sunflower
Sunflowers are annual plants, completing their life cycle in one growing season. Plant sunflower seeds in fertile soil that has good drainage, choosing a sunny, open location. Plant the seeds after danger of frost has passed 1 to 2 inches deep and about 6 inches apart, spacing rows 2 to 3 feet away from each other. Water the planted area. Seeds should sprout in seven to 10 days. When true leaves appear above the seed leaves, thin the seedlings to be 2 feet apart. To support sunflower's fast growth, water the plants regularly to keep the soil moist. Watering is especially important when flowers and seeds are forming, about 20 days before and after flowering.
Harvest Time
Depending on the variety, sunflowers take 80 to 120 days to develop seeds. As the seeds form, the outer ray florets wither and fall off. The weight of the maturing seeds may cause the head to droop downward. When the back of the flower head changes from green to yellow and the bracts along the edge turn brown, it's considered mature. When the back of the flower head is brown, seeds are ripe.
Protecting Seeds
As the seeds approach ripeness, animals may beat you to the harvest. Seed-eating birds and rodents such as mice, rats, squirrels and chipmunks climb up stalks or fly in and perch on flower heads to pick the seeds. Discourage them by covering the seedheads with a paper bag, nonwoven garden fabric or with cheesecloth draped loosely around the head, and tie it around the disk's base. You can also pick the heads while they're mature but not fully ripe and finish drying them away from animals.
Picking and Drying Seedheads
Use a sharp, clean pruning shears and pick either mature or ripened seed heads, leaving a stem of about 12 inches long below the head. Don't allow the seedheads to become so dry before harvesting that the seeds begin to fall out. Hang the seedheads upside down in a warm, well-ventilated, dry place that's protected from rain. Low humidity is important to prevent mold formation on seedheads. In a few weeks, the heads are dry and cured.
Removing and Storing Seeds
When the seedheads are dry, hold them over a clean surface and rub the seeds loose with your fingers. You can also rub the seedheads against each other or use a stiff brush to knock them loose. The seeds should be plump and striped with black and white. Put the cleaned seeds on wire racks to further dry for two weeks. To store the seeds over the winter for planting the next spring, place thoroughly dried seeds into paper bags or, for small quantities, coin envelopes.
Sunflower Varieties
Most sunflowers grown for their edible seeds are tall, usually from 6 to 12 feet high. "Mammoth Grey Stripe" has flowers 12 inches wide and reaches 12 feet tall. "Mammoth Russian" is 12 to 15 feet high and has 15-inch diameter seedheads. A smaller variety suited for small gardens, "Super Snack Mix" is 5 feet tall with 10-inch flowers. Its seeds are large and easy to crack open. Many different, smaller-diameter, colorful varieties of sunflowers produce ornamental blooms and good cut flowers. Be aware that if you're growing more than one strain of sunflowers, the seedlings that result from saved seed may not resemble the parents. Some strains of ornamental sunflowers don't produce pollen and therefore aren't self-fertile.