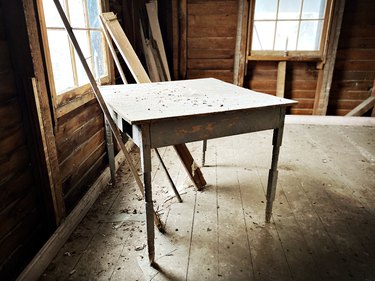 Ink is probably one of the most common stains discovered on desks, and it's easy to get accidental ink marks on other hard surfaces as well. The best way to get ink off a hard surface, like a desk, will depend on the type of ink and the particular surface, be it untreated, stained, varnished or painted wood; laminate; or another type of finish. Take a trial-and-error approach, starting with the gentlest kinds of stain removers and moving on to harsher products only if necessary. As with all stains, the sooner you tackle an ink spill, the easier it is to get out.
Test an Inconspicuous Area First
Before using any type of cleanser or stain-removal product on an ink-stained desk, test a small amount of the product in an inconspicuous spot. Even gentle cleaners can remove the color or finish from wood and other types of furniture. Use a cotton swab to apply a little of your chosen cleanser to a hidden spot, such as the underside of the desk or inside of a drawer. Examine the swab to see if any of the color from the desk was lifted; if so, reconsider using that particular product.
Start With Gentle Cleansers
It's often possible to remove minor, fresh ink stains that haven't had time to set in by using gentle cleansers. Try scrubbing the stain with a soft cloth soaked in hot water with a touch of dish soap. Squeeze out the excess liquid before scrubbing. If the dish soap doesn't lift the ink stain, move on to baking soda. Prepare a paste of baking soda and water, rub it into the stain with your fingers or a cloth and let it sit for 10 minutes. Wipe off the baking soda paste with a damp cloth and repeat if necessary.
Try Tougher Stain Removers for Ink
If the ink stain partially remains after using dish soap and baking soda, move on to some slightly more aggressive cleansers. Rubbing alcohol is an excellent stain remover that can lift ink and so are lubricants, such as WD-40. Apply a little of one of these products to a soft rag, scrub the stain and then wipe away the product with plain water.
An unconventional stain remover to try is toothpaste. Smear a thick layer of toothpaste over the ink stain and let it sit for several hours. Wipe away the toothpaste with a soft cloth soaked in warm water. Another option is a melamine sponge, also known as a magic sponge. Soak the sponge in warm water, squeeze out the excess and gently scrub the stain.
Harsher Ink Stain Removers
For really tough ink stains on wood furniture, you might need to use harsher stain-removing products, such as mineral spirits, ammonia, clear nail polish remover or acetone. Do not use these products on laminate or acrylic furniture. These types of stain removers are much more likely to damage the finish of a desk, so decide if you're willing to refinish the surface if needed or perhaps live with the ink stain.
Work in a well-ventilated area, apply a little of the product to a cloth or cotton ball and wipe the stain. Wipe the treated area with a soft cloth soaked in warm water after removing the stain.
If you successfully remove an ink stain but the treated area looks dull, follow up with an application of furniture wax or furniture spray designed for your particular finish.