Things You'll Need
Ruler

Cutting mat

Craft knife

Scissors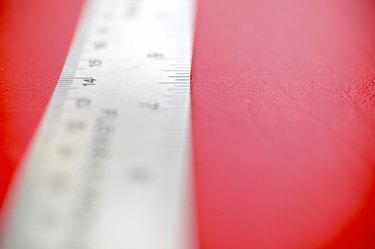 Foam is used for crafting in many different forms. Foam core and craft foam sheets can be used to complete a wide variety of craft projects, but in order to complete those projects you will most likely have to cut the foam sheet. Cutting a foam sheet, whether it be foam core or craft foam, is a project that can be completed by a complete craft novice. You don't need any expensive tools, and any necessary tools that you don't already own can be found in any craft store.
Foam Core Sheets
Step 1
Place your foam core sheet on a cutting mat.
Step 2
Cut through the first layer of card stock on the foam core sheet with a craft knife. Use a ruler to guide your cut if you are making a straight cut.
Step 3
Make another cut with your craft knife, following the line of the first cut, only this time you are going to cut through the foam center of your foam core sheet.
Step 4
Make a third and final cut, again following the same line, to cut through the final layer of card stock on your foam core sheet.
Craft Foam Sheets
Step 1
Take your craft foam sheet in one hand and cut your design out with a pair of scissors held in the hand that you normally write with. Make your cuts long and smooth to avoid a choppy cut out. Scissors are best for cuts that aren't long straight lines; for those a craft knife will usually yield the best results.
Step 2
Lay your craft foam sheet on a cutting mat.
Step 3
Place a ruler along the straight line that you want to cut, and use the ruler as a guide to cut that line with a craft knife. You want to compress the foam a little with the ruler to help get a smooth cut.
Tip
Use a craft knife with a new blade that is sharp to get the best results, especially with craft foam