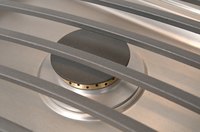 There are few things as relaxing or satisfying than cooking on a gas grill. Whether grilling in the heat of summer or in the midst of winter, gas grills are convenient to use and easy to maintain. They also save a lot of clean up time in the kitchen. Preheat your gas grill in the proper manner, and maintain your grill, and you should enjoy many years of grilling and cooking in your outdoor kitchen. It's always a good idea to read the manual that came with your grill and follow the directions given. However, you can light and preheat a grill by just following a few steps.
Things You'll Need
Matches or lighter (optional)
Process
Open the lid on the grill and then turn the knob on the gas tank to open the line. Turn on one burner in the grill.
Push the ignition button if you have one, or light the burner with matches or a lighter.
Turn on the other burner, if you have one.
Preheat the grill on high for at least 10 minutes.
Close the lid on the grill and heat to the appropriate temperature for your cooking.