Things You'll Need
Walnut Hollow Versa-Tool

Walnut Hollow Versa-Tool Transfer Point

Laser printed image

Clear acrylic varnish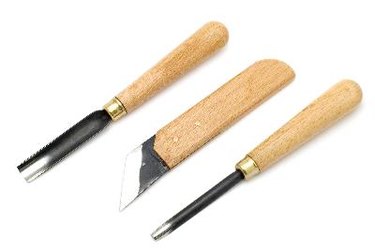 Using Walnut Hollow's Versa-Tool's transfer point, you can transfer laser printed photos to a variety of surfaces. Surfaces such as wood, paper and fabric are perfect mediums for transferring your images using Versa-Tool's transfer point. As the tool is small, it is easy to control and handle and less messy than other transfer processes that involve smelly solvents.
Step 1
Create a mirror image of your photo using your favorite graphics software. You need to reverse the image as you will need to turn the photo over and transfer the image via the back of the paper. Due to this, the image will be reversed from how it's printed. Printing the image in reverse will ensure that your image faces the right way.
Step 2
Print the image on a laser printer or copy the image using a toner based copier. Inkjet prints will not work for this process.
Step 3
Place the laser image face down on top of the item to which you wish to transfer the image.
Step 4
Begin running the transfer point over the back of the image. Use a circular motion with the Versa-Tool as you transfer. Occasionally lift up the edge of the photo, being careful not to move it from its place, to ensure the photo is transferring properly. If the image remains light, continue to run the transfer point over the image until you have completely transferred the image.
Step 5
Turn the Versa-Tool off and allow it to cool.
Step 6
Apply a clear, acrylic varnish to your surface if the surface is wood or any other type of hard surface that is not fabric or paper. Allow the varnish to dry.
Warning
Use caution when using the Versa-Tool as the tips become very hot. Never attempt to remove the transfer point while the point is still hot as you will burn your hand. Always allow the tool to cool before placing in a drawer or any other type of storage.