Things You'll Need
Worsted weight yarn.

Pattern

Needles

Ruler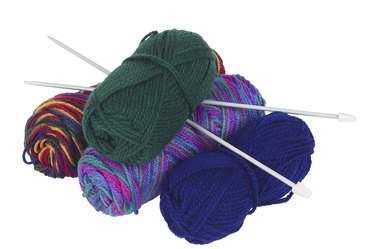 So you have a great pattern for a pair of felted slippers, or you're ready to knit up that top-down sweater pattern you found on the Internet. Maybe a rolled-brim hat or a cozy pair of wool mittens are calling you. But you have worsted weight yarn, rather than the bulky yarn the patten uses. You can substitute, as long as you follow the right steps.
Prepare to Knit
Step 1
Read the pattern for your project. Patterns give you all the information you need to complete the project, including yarn weight, needle size and gauge.
Step 2
Know the most common yarn weights and what they are used for. The weight refers to the thickness of the yarn. Yarn comes in six different weights. From lightest to heaviest they are: lace, which is used for knitting very light projects and produces a gossamer texture; fingerling, which most often is used for socks and baby items; sport, which can be used for lightweight projects like summer sweaters; worsted, which is the most commonly used weight because of its versatility; and bulky and super bulky, which are used for many felting projects as for heavy sweaters and rugs. Bulky yarn knits up quickly on super large needles.
Generally, two strands of worsted weight yarn can be substituted for one strand of bulky weight yarn.
Step 3
Learn how to read the label on a skein of yarn; this tells you the weight, yardage and number of ounces and grams in the skein. From that information, you can determine how many skeins you will need. If you are substituting two strands of worsted for one strand of bulky, you will need twice as many skeins.
Step 4
Determine your gauge. Knitting expert Stephanie Pearl-McPhee defines gauge as the tension at which one knits. Gauge measures the number of stitches the knitter gets per inch. Gauge is important because if your tension is off, garments won't fit correctly.
You can determine your gauge by knitting a swatch. A swatch is a square knitted on the size needles suggested in the pattern, in the same stitch with the same yarn the pattern calls for. However, if you're a substituting two strands of worsted weight yarn for one strand of bulky, use the worsted yarn to knit your swatch.
If a pattern calls for bulky wool knitted at 14 stitches per 4 inches on size 10 needles but you are substituting two strands of worsted weight yarn and are, for example, getting 16 stitches per 4 inches, you will have to change your needles to a larger size in order to achieve gauge.
Step 5
Knit according to the pattern, once you have established the correct gauge, amount of yarn needed and needle size for using two strands of worsted yarn in place of one strand of bulky yarn.
Tip
Gauge generally is not necessary when knitting large items, like tote bags, that will be felted.