Things You'll Need
3 corn ears with husks

1 16-oz. refrigerated cooked polenta in tube

Nonstick cooking spray

4 medium chopped Roma tomatoes

3 tbsp. balsamic vinegar

1 tbsp. fresh thyme

¾ tsp. cumin seed

¼ tsp. salt

18 large cooked shrimp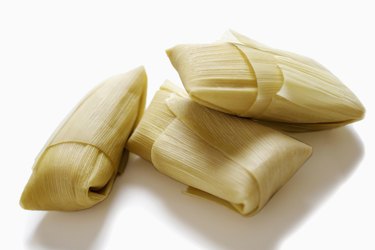 Polenta, a mixture of cornmeal and water, adds texture to many Italian and Mexican dishes. Adding prepared polenta to tamales creates a breadlike texture in conjunction with the corn husks. Tamale recipes vary by cultures and tastes, but they all tend to use similar ingredients such as corn husks, polenta and corn. You can change or add ingredients to any tamale recipe to suit your tastes, which makes the tamale recipe excellent for customization.
Step 1
Preheat the oven to 450 degrees.
Step 2
Remove the husks from the corn ears carefully. Try to keep the husks whole when removing them.
Step 3
Wash the husks and set them aside to dry. Remove the corn kernels from the cobs with a sharp knife. You will need 2 cups of corn kernels.
Step 4
Cut the polenta into 12 slices crosswise. Spray a baking pan with nonstick spray. Lay the polenta slices in a single layer in the pan.
Step 5
Bake for 15 to 20 minutes until the polenta turns golden brown. Turn the polenta over after 10 minutes to allow even baking.
Step 6
Spray a skillet with nonstick spray. Cook the corn kernels over a medium-high heat for 5 minutes. Once the kernels become lightly brown, stir in the tomatoes, vinegar, thyme, cumin and salt.
Step 7
Cook the mixture for 1 to 2 minutes. Stir in the cooked shrimp and cook for 5 minutes.
Step 8
Overlap two corn husks on a plate. Place two polenta slices on the corn husks, and spoon the shrimp and corn mixture into the husks. Fold the tamales like a burrito so that the mixture becomes enclosed in the corn husks. It's now ready to eat.
Tip
Replace the shrimp with cooked pork or chicken for different meat-filled tamales.