Things You'll Need
Printed images, patterns or text

Measuring tape

Translucent, white, low-tack, self-adhesive contact paper

Scissors

Drafting or painter's tape

White oil-based paint pen

Plain sheet of paper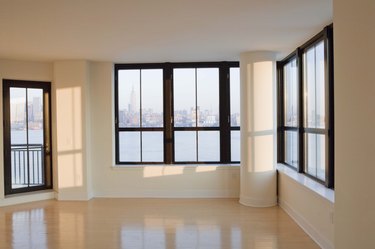 Translucent paper window coverings create privacy while adding a decorative accent to windows. An easy way to make paper window coverings is to use translucent, low-tack, self-adhesive contact paper. This is a particularly good design solution for a rental property where you need window treatments that are inexpensive and easily removable. The online design magazine, Design Sponge, recommends drawing or tracing designs on translucent contact paper with an oil-based, white paint pen. This creates a subtle, white-on-white pattern over the translucent covering.
Instructions
Step 1
Select printed images, patterns or text to use as your motifs for the paper coverings. Simple geometric patterns, botanical forms and words are easiest to trace. Print the images with a computer printer, or have prints made at a copy shop, at a size to fit your window panes. These images will serve as your tracing patterns for embellishing the contact paper.
Step 2
Measure your window panes with your measuring tape. If you live in an older building, the window panes might not be perfectly straight, so measure vertically and horizontally at different points. Write down the dimensions. Calculate how much translucent, white, low-tack, self-adhesive contact paper you will need. Typically, contact paper comes in 9-feet long by 18-inch wide rolls. Using your scissors, cut pieces of contact paper to the dimensions of the window panes you have measured.
Step 3
Prepare the cut pieces of contact paper for embellishment by placing them, back side down, over the patterns. The back side is the side with the peel-away paper backing. Secure the contact paper on top of the paper patterns with drafting or painter's tape. Hold the taped pieces over a window, allowing sunlight to illuminate the design through the layers of paper. Trace the designs on the contact paper with the white oil-based paint pen. Let the paint dry completely.
Step 4
Wash your windows before applying the contact paper to the glass. For each window pane, detach the contact paper from the pattern and peel away the backing paper. Press the contact paper on the window pane. Using a plain sheet of paper between your hands and the contact paper, to avoid fingerprints, smooth any bubbles or wrinkles out of the contact paper.
Tip
Keep your paper covered window panes clean with damp sponge or a dry microfiber cleaning cloth.
Contemporary contact paper, unlike the earlier versions from the 1950s, is coated with a low-tack adhesive and is easy to remove. (See References 2) To remove or replace the paper coverings, peel off the contact paper and clean any adhesive residue with an all-purpose spray cleaner.
Warning
When working with any oil-based painting materials, allow adequate ventilation to avoid inhaling fumes.