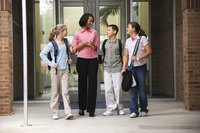 Teacher Appreciation Day is an annual day set aside to celebrate teachers and all that they do for children. Teachers work hard to educate children. They nurture and care for them. They deserve appreciation from their students and families of their students. One way to show appreciation for your child's teacher is to create a homemade greeting card as a thank-you. Cards can be created using simple materials and do not take long to make. However, a homemade card with a written note will make a teacher's day.
Things You'll Need
Scrapbook paper
Envelope
Embellishments
Adhesive
Pen
Paper trimmer
Bone folder
Preparations
Look for materials in a scrapbook or other craft store and be sure everything is acid and lignin free. Choose either patterned or plain scrapbook paper and an envelope to match. Coordinate the pen with the paper or embellishments, and the envelope.
Find embellishments that coordinate with the chosen paper. Look for teacher-themed paper piecing sets and other embellishments. Minimal embellishments will work; too much weight won't.
Choose an adhesive that is photo safe and easy to use. Using adhesive squares works well, and there are some that will give the card a 3-D effect. Glue sticks and tape runners work as well.
Decide on the size of the card, which will be slightly smaller than the envelope it will be placed into. Measurements for the card will be twice the length and height of the chosen size of the card. Use the paper trimmer to cut the paper to the correct size. Be sure to use a sharp blade for a smooth cut.
Fold the card in half, and use the bone folder to make a professional-looking crease down the center of the card.
Place all of the tools and materials that will be needed within reach, and begin thinking about what will be written on the inside of the card. Search for quotes related to teaching.
Creating the Card
Place the folded card on the work surface face up. Place the embellishments on the front of the card and keep arranging them differently until the desired results have been found. Use adhesive to attach the embellishments to the card. Allow to set if glue is used.
Open the card. Place another embellishment on the inside. Adhere the embellishment to the paper.
Using the photo-safe pen, write a sentiment on the inside of the card. Choose something heartfelt. Add a quote about teaching or a quote by a famous teacher. Sign the card and have the child sign as well. Allow the card to dry before closing if glue was used.
Close the card and run a finger over the fold line so the card will lie closed. Place the card inside the envelope and close. Address the card.