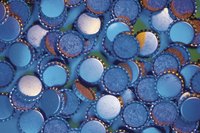 The sound of wind chimes can often evoke a nostalgic feeling -- one that's reminiscent of childhood, summer, porch swings, and playing at grandpa's. While wind chimes can be found at almost any home improvement store, making your own from found items like bottle caps is cheaper and a whole lot more fun. Be creative with the type of caps you use -- perhaps something you drank as a kid -- and watch that nostalgia come roaring back.
Things You'll Need
Wood scrap
Metal bottle caps
Small nail
Hammer
Fishing line
Thin piece of copper or colored metal
Tin shears
Metal hook
Set a bottle cap on the wood scrap.
Place a small nail in the center.
Tap the nail gently with the hammer until the nail pokes through the cap, making a small hole.
Remove the nail. Turn the bottle cap over.
Tap the hammer lightly on the sharp edges the nail made on the underside of the cap to push the edges down.
Repeat until all the bottle caps you are using have holes.
Cut five strands of 3-foot fishing line. Knot each one at one end.
Thread the fishing line through a bottle cap.
Make a knot where you want the next cap, and then slide another cap onto the line.
Repeat with all the strands until you have as many caps on a strand as you want. Leave six inches free of bottle caps at one end.
Cut a thin piece of metal with the tin shears into any shape. It needs to be around six inches across.
Punch four holes along the bottom edge of the shape using the nail and hammer.
Punch a hole at the center of the top edge of the shape.
Thread each strand through a hole and tie it in place, making each a different length.
Put a drop of extra strong glue on the knots to make them more secure.
Tie the ends to a hook and hang the wind chime.