Things You'll Need
Cake recipe

Oven

Oven rack

Rubber cake pan

Dish soap and water or a dishwasher

Nonstick spray or shortening

Metal cookie sheet

Cake batter

Toothpick

Cake dish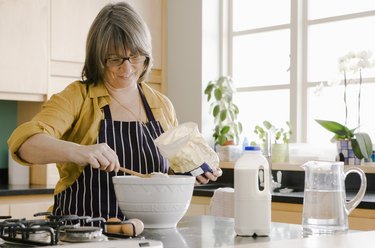 Rubber cake pans can tolerate temperatures up to 500 degrees Fahrenheit and can shorten your baking time by five to 10 minutes. Made from a silicone-based inorganic rubber, the cake pans have a nonstick surface that produces quality results and releases the cake without breaking, marring or splitting it. Simply bend back the sides of the rubber cake pan and the cake pops out. Dishwasher safe, easy to clean and durable, you can cook a cake in a rubber cake pan in either the oven or microwave.
Step 1
Preheat the oven to the temperature required by the recipe 30 minutes prior to cooking and place the oven rack in the middle part of the oven. Placing the oven rack in the middle will ensure that the rubber cake pan does not come in contact with a direct heat source.
Step 2
Wash the rubber cake pan before use. Either place the rubber cake pan in the dishwasher or wash it in the sink by hand with warm water and some liquid dish soap.
Step 3
Spray a small amount of nonstick spray or rub some shortening on the inside of the rubber cake pan. Although rubber cake pans have a nonstick surface, a nonstick cooking spray will provide extra assurance that your cake does not stick to the rubber.
Step 4
Place the rubber cake pan on a metal cookie sheet before filling it with batter. The cookie sheet will provide a secure surface for the flexible, rubber cake pan to sit on during the baking process. It will also make it easier to place the rubber cake pan in the stove and remove it.
Step 5
Fill the cake pan with batter and move the metal cookie sheet with the rubber cake pan on top to the preheated oven and bake per recipe instructions. Check the cake batter 10 minutes prior to the end of the cooking time using a toothpick. Press the toothpick into the center of the cake. If it comes out dry, remove the cake. If the toothpick comes out with wet cake batter attached, continue baking and check the cake again in a few minutes.
Step 6
Remove the rubber cake pan from the oven by lifting it out with the cookie sheet. Allow the cake to cool completely before removing it from the rubber cake pan. Pull the sides of the pan back and pop the cake out onto a clean cake dish. Wash, dry and store the rubber cake pan for use at a later time.
Warning
Do not use sharp utensils to remove a cake from the rubber cake pan.
Never use a rubber cake pan on a stove top and do not expose it to an open flame.