Things You'll Need
Cashmere sweaters

Sewing machine

Thread

Sharp sewing scissors

Sewing pins

Fabric marker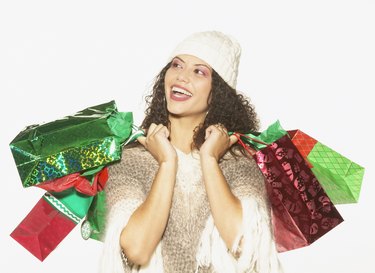 Cashmere is a coveted luxury fiber. Among the softest of all animal fibers, cashmere sweaters are lightweight, warm and silky. Cashmere production is slow and costly, making this fiber expensive. You can, however, often find gently worn cashmere sweaters in your local thrift store. Alter cashmere sweaters into new sweaters, blankets, mittens or slippers to give new life to this lovely fabric.
Step 1
Collect one or several cashmere sweaters for your project. Choose sweaters of a similar weight for the best result.
Step 2
Try on your sweater, inside out. Pin any fitting changes into place. Remove the sweater and mark the cashmere sweater alterations with a disappearing fabric marker.
Step 3
Cut away excess fabric outside of the marked lines. Work on a single piece or seam line at a time to reduce the potential for the cashmere sweater to unravel.
Step 4
Set your sewing machine to a tight, narrow zigzag stitch. Finish the cut edges with a zigzag stitch before your proceed. Try to avoid pulling the fabric excessively to prevent rippling as you finish the edges of your cashmere sweaters.
Step 5
Sew the cut pieces together using a stretch stitch on your sewing machine. Raw edges on sleeves and hems can be zigzag stitched and allowed to roll, bound with ribbon or bias tape or carefully pressed and hemmed.
Step 6
Hand wash your altered cashmere sweater and lay flat to dry, shaping it carefully as you do so.
Tip
Try felting cashmere sweaters or altering accidentally felted cashmere sweaters into new garments, pillows or even blanket squares.