Pot roast was made for Sunday Supper. Or was Sunday Supper made up as an excuse for pot roast? Either way, this is just about as simple, tender, and flavorful as a pot roast can get. And don't forget to make your own gravy for this family favorite -- it's what make this recipe miles above the others!
Watch the Video
Things You'll Need
1 (3 to 5 pounds) beef chuck roast

Salt and pepper

1 tablespoon olive oil

2 large carrots

1 white onion

1 pounds red potatoes

1 sprig thyme

1 sprig rosemary

2 cups beef broth


3 tablespoons butter

2 tablespoons flour
Step 1: Chop the Vegetables
Quarter the onions, and cut the potatoes, carrots and celery into large chunks.
Step 2: Sear the Beef
Sprinkle both sides of the beef roast liberally with salt and pepper and sear on both sides in a hot pan.
Step 3: Brown the Vegetables
Remove the meat from the pan. Add the vegetables, cooking until lightly browned.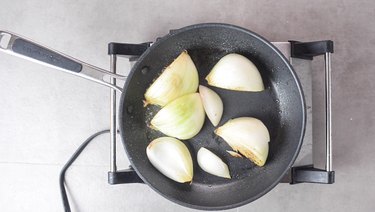 Step 4: Add to a Slow Cooker
In this order, add the beef, vegetables, herbs and broth to a slow cooker. Cook on low for 8 hours.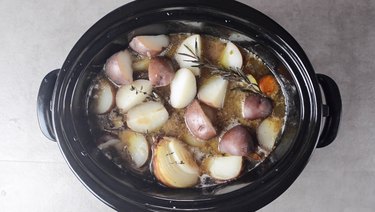 Step 5: Remove from the Slow Cooker, Reserve the Broth
Remove the vegetables and beef from the slow cooker, reserving the broth.
Step 6: Melt the Butter
Melt the butter in a saucepan over medium heat.
Step 7: Make a Roux
Sprinkle with flour, whisk until the flour has been moistened and the butter has thickened.
Step 8: Add the Reserved Broth
Strain the broth into the pan.
Step 9: Simmer Until Thickened
Simmer, whisking occasionally, until thickened. About 6 minutes. Add to a gravy boat, serve alongside the vegetables and pot roast.