Things You'll Need
Square spade

Edging strip

Stakes

Hammer

Landscape fabric

Stones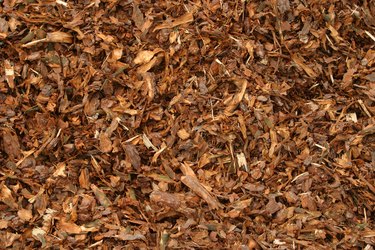 Mulch and stone often are used near each other in landscaping. Rock iprimarily is used to help control slopes and to prevent wash out. Mulch is used to reduce weeds, increase moisture and improve appearance. One of the difficulties with rock applications is keeping the rocks clean. A second concern is how to divide the rocks and the mulch to keep maintenance and appearance at their best.
Step 1
Press a square spade (flat shovel) vertically into the border between the mulch and the stone. The spade must penetrate 3-1/2 inches deep for metal edging and 6 inches for some plastic edging. Continue along the entire border area. Dig the dirt 6 inches away on the stone side of the border.
Step 2
Insert a garden edging strip (metal or commercial-grade plastic) 3-1/2 inches for metal and 6 inches for plastic into the soil. The plastic type will have a V-shaped bottom that should face the rock bed. Secure the strip with edging stakes every 6 to 7 feet by driving them at a 25 degree angle nearly parallel with the surface soil. Each connecting end will use two stakes.
Step 3
Backfill the rock bed side to half way up the edging. Water the edging and walk with a boot on either side of the edging, pressing the soil against the edging on both sides. Backfill the remainder of the rock bed side. Line the rock bed with landscape fabric and 1 to 2 inches of rock. The top of the rock should be 1/2of an inch below the top of the edging.
Step 4
Taper the edge of the mulch bed soil along the edging strip so that the top 1 to 2 inches of the edging are exposed. Apply mulch to the bed directly onto the soil. Most mulch applications are 2 to 3 inches. Apply less mulch near the edging so that 1/2-inch of the edging is above the top edge of your finished mulch.
Tip
Other solid edging can be used such as bricks, concrete and wood. Clean the stone beds by using a blower.