Things You'll Need
Quilted fabric

Zipper

Scissors

Pins

Thread

Sewing machine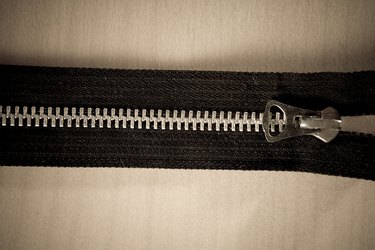 Many people use a fabric book cover to carry around their Bibles or other books that they use on a regular basis. Book covers help protect any book you wish to put in it. Covers that have zippers also help to keep all sorts of papers neatly organized and inside the book. Keep papers you use with that book stored with your book inside your book cover, and they will be there whenever you need them without having to search high and low for them.
Step 1
Fold your quilted fabric in half. Set your book on the fold of the fabric to use as your pattern since different books are different sizes.
Step 2
Use scissors to cut out the fabric all the way around your book. Make sure to leave enough fabric all the way around the book to come up the side of your book a little over half way to allow for the zipper.
Step 3
Make flaps to hold your book cover by cutting two pieces of fabric to measure the short side of the book cover and four inches wide. Pin these to the inside of the book cover, matching up the corner.
Step 4
Sew the flaps in place, removing the pins as you go. Do not worry about folding under the raw edges.
Step 5
Cut one more piece of fabric to the same measurement as the short side of the fabric to make a pocket for the outside of your book cover and about six inches wide.
Step 6
Pin the binding along the top edge of the pocket. Sew in place.
Step 7
Lay the end of one pocket upside down where the spine of the book will sit inside the cover. Sew the bottom edge of the pocket in place.
Step 8
Flip the pocket up to make a neat edge at the spine. Top stitch at the two sides just to hold the pocket in place.
Step 9
Pin one side of the zipper to the fabric with the right sides together. Start in the center of the top of the fabric and work down one side to the center at the bottom of the fabric. Sew this side of the zipper in place.
Step 11
Repeat the pinning process with the other side of the zipper and the fabric. Sew down that side.
Step 12
Zip up the zipper to make sure that everything lines up and the zipper zips smoothly.