Things You'll Need
Soft-bristled broom

Dust mop

Microfiber cloth

Non-acidic marble cleanser

Hot water

Soft cloth or chamois

Area mats or rugs

Coasters

Vanity tray

Furniture pads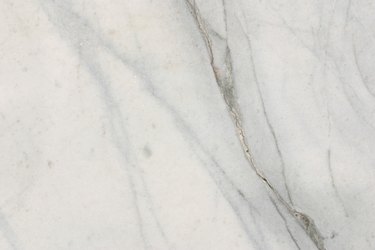 Honed marble provides a more rustic and natural finish to stone that causes marble to become more porous--which puts it at greater risk for absorbing stains. Unlike some polished marbles, honed marble should always be professionally sealed to protect it from damage. You may only clean honed marble with special cleansers that are specifically designed to complement the type of sealer used on the stone. Be sure to get a list of recommended cleansers from the company that seals your floors or countertops, as there is no one-size-fits-all marble cleanser to care for honed and sealed marble.
Step 1
Keep floors and countertops free from residual dirt with a soft-bristled broom, dust mop or microfiber cloth (for countertops). This is especially important on flooring, when walking over grit can compound scratches and damage surfaces. Dust or sweep your floors daily for best results.
Step 2
Clean marble countertops and floors with a non-acidic, non-abrasive neutral cleanser that is safe and specially designed for marble. Regular use of a mild soap can dull surfaces.
Step 3
Wipe up spills immediately using an appropriate marble cleanser, especially if they contain acids found in juices, coffee, wine, alcohol, vinegar or other foods. Toiletry products and cleansers can also etch the surface. Sealers do not protect against the damage that can be caused by them.
Step 4
Place coasters or other protective devices on marble countertops and tables, as well as bathroom vanities. Place door mats, area rugs and runners in high-traffic areas to help protect floors. Place furniture pads beneath table and chair legs.
Step 5
Have your marble professionally re-honed on floor areas that begin to show traffic patterns. The area will then need to be resealed.
Tip
The use of a non-abrasive tray on your vanity is recommended to house your beauty and personal care products.
Avoid the use of waxes on marble countertops or floors; it may discolor them.
Too much weight on countertops can crack them, as they are not reinforced. Do not sit or stand on them.
Warning
Never use vinegar, lemon juice, ammonia, orange or any other cleaner that contains acid.
Avoid the use of tile or grout cleaners on bathroom marble--these will damage the stone. Do not use any powders or even soft cleaning creams which can contain abrasive properties.