Things You'll Need
Coffee warmer ( 20 to 25 watts recommended for optimal heating)

Scented candle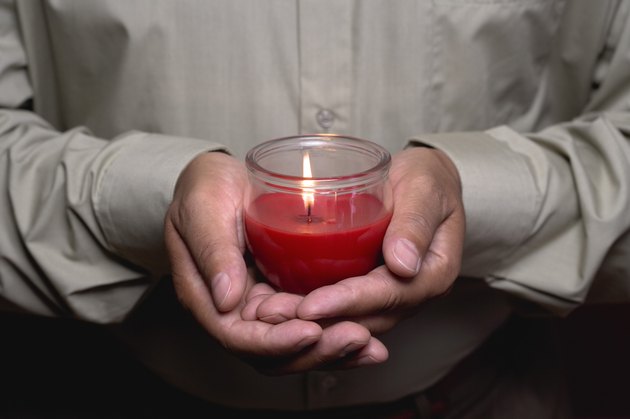 Traditionally, coffee warmers allow you to keep your favorite mug of coffee or tea from getting cold by using a hotplate to keep your coffee at a consistent temperature. If you are one of the seven in 10 people that the National Candle Association recognizes as regularly using candles, you can use your coffee warmer with scented candles. The warmer will melt the candle wax to give off the candle's scent without the smoke or soot of a flame. While warming your candles is safer then using a flame, do not leave your candle unattended while in use.
Step 1
Set the coffee warmer on a flat surface away from anything that may melt from being too close.
Step 2
Place your candle on the coffee warmer. If your candle is in a covered jar, remove the cover before placing the candle on the warming plate. If you are using a votive candle or tart that does not have a glass cover, place a tart plate on your coffee warmer and place the candle in the plate.
Step 3
Turn on your coffee warmer to begin heating the wax in your candle. You should soon notice the scent of your candle filling the room just like a lit candle would.
Step 4
Turn off your coffee warmer when you no longer need the candle's scent. Be sure to unplug the cord if your warmer is electric. To avoid burning yourself, let the candle sit for at least five minutes (or until the wax has returned to a solid form) before removing the candle from the warmer.
Tip
While most coffee warmers are made with a plastic base, if you can find one that has a ceramic base, the heat conducted from the hot plate will last longer.
Only use candles that are the same size or slightly smaller then the heating element on your coffee warmer to ensure even heat distribution throughout the candle.
Using a coffee warmer to heat your scented candles is more cost effective then traditional flame methods. Home Interior Design Themes notes electric warmers use "the entire contents of the candle's container, unlike traditional burning methods in which the wax will drip away."
Warning
Do not leave your coffee warmer on for longer then the recommended time noted in the instruction manual that came it.
Do not put an electric coffee warmer near a sink or other areas of water that could cause electrocution.
Do not leave the coffee warmer on overnight.