Things You'll Need
9 inch by 13 inch glass baking dish

Plastic wrap

Aluminum foil

Masking tape

Marker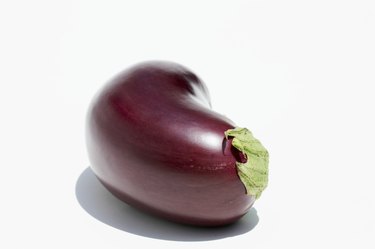 Eggplant parmigiana is a rich combination of fried eggplant and tomato sauce, along with Parmesan and mozzarella cheeses. Cooking it can be a time-consuming process because it requires an extensive amount of preparation: slicing and frying the eggplant, making the tomato sauce and assembling all the ingredients, in addition to its baking time. Freezing eggplant parmigiana can be a time saver because you can assemble the unbaked dish at one time, but heat it at a future time. You can also make two dishes at once: one to eat now and one to freeze.
Step 1
Prepare your eggplant parmigiana as usual up through the assembling stage in a 9-inch-by-13-inch glass baking dish, but do not bake it. Let the eggplant parmigiana sit until all the fried eggplant and warm tomato sauce cool down to room temperature.
Step 2
Cover the cooled eggplant parmigiana tightly with plastic wrap. Make sure the plastic wrap is secured around the sides of the baking dish so no air is trapped inside.
Step 3
Wrap the top of the baking dish securely with aluminum foil to further insulate and protect the eggplant parmigiana. Place a one-inch piece of masking tape onto the top of the foil, then write the date on it. This will help prevent you from forgetting the freezing date and storing it in the freezer for too long.
Step 4
Place the wrapped dish into your freezer. Keep it there for a maximum of three months for best results.
Step 5
Remove the dish from the freezer when you're ready to eat the eggplant parmigiana. Transfer it to your refrigerator or counter and let it sit until it thaws completely (it will not bake evenly if you place it in the oven while it's still frozen). Remove the wrappings and bake the dish at 350 degrees Fahrenheit for about 20 minutes or until the eggplant is warmed through and the cheese is golden brown.
Tip
Keep fresh tomato sauce, Parmesan and mozzarella on hand to add to the frozen eggplant parmigiana after you've baked it enough to just heat it--adding fresh ingredients and warming them through will make the dish taste fresher.
Warning
Never freeze foods while they are still warm--the drastic change in temperature will prevent the food from freezing evenly.
Always wrap food items securely before freezing or else ice crystals could form on the food and make it taste bland or freezer burnt.