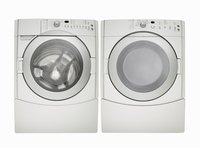 Dust mites are microscopic organisms that inhabit most homes. These eight-legged mites consume dead skin that humans and animals shed regularly and without knowing it. They often take up residence in places that are likely to have high amounts of shed skin, such as mattresses, sofas, blankets and carpets. While dust mites don't cause disease, they may cause allergic respiratory symptoms, including episodes of asthma, in those who are sensitive to them.
Wash your pillows, sheets, comforters and other bedding, curtains or fabrics. If you wash your bedding in water that is at least 130 degrees F, you may be able to kill the mites before they even make it into the dryer. However, you can wash your fabrics in any temperature of water you like if you will rely on the dryer to kill them.
Place your washed bedding and other fabrics in the dryer. Drying fabrics on a hot enough setting will kill dust mites.
Set your dryer's time for about 15 minutes longer than you'd normally need to dry your bedding. According to HealthyChild.org, drying your fabrics for 15 minutes longer will kill the dust mites.
Start your dryer, putting it on its hottest drying cycle.
Tumble dry bedding, pillows, stuffed animals, blankets and other fabrics likely to contain mites in a hot dryer, when you don't want to wash them first, for about 10 minutes. Doing this monthly may help to cut down on the dust mite population.