Things You'll Need
Acrylic paints

Needlepoint canvas

Synthetic brushes

Paper plate or palette

Pencil

Kneaded rubber eraser

Heavy white paper

Tape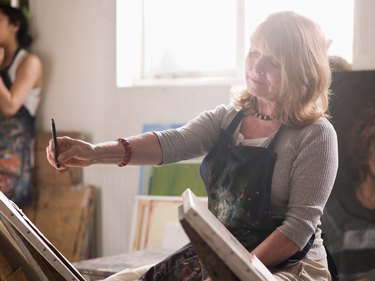 While it is expensive to purchase hand-painted needlepoint canvases, you can easily paint your own, even if you have limited artistic skill. Draw out your design by hand or transfer a print or photo to the needlepoint canvas using the same techniques. Once you are able to hand paint a needlepoint canvas, you can expand your potential designs and projects, even creating personalized canvases perfect for your own use or to give as gifts.
How to Hand Paint a Needlepoint Canvas
Step 1
Create your needlepoint design. Sketch an image, print one out, or use an image you already own. Make a photocopy of your image if you prefer to keep the original intact.
Step 2
Tape your design to a table, counter top or other work surface. Cut your needlepoint canvas approximately two inches larger on each side than the design. Tape the canvas down on top of the design.
Step 3
Use a pencil to trace the design onto the canvas. Choose a pencil with hard lead for the best result.
Step 4
Arrange the colors you will need on a paper plate or disposable paint palette. Test the paint colors on a scrap of needlepoint canvas. Paint a needlepoint canvas scrap, then soak in lukewarm water. Check for any color bleeding and choose a different brand of paint if you are concerned about bleeding.
Step 5
Begin painting color onto your needlepoint canvas with a short bristled, firm paintbrush, using the image beneath your canvas as a guide for the placement of each color. Use larger brushes for large areas of color and smaller ones for details. Paint within the lines of your original tracing for the easiest stitching.
Step 6
Allow the needlepoint canvas to dry completely, then apply a second coat of paint as you did the first.
Step 7
Make a color chart. Paint small swatches of each paint color onto a sheet of heavy white paper. Take this and your original design with you to the needlework shop and choose yarn or embroidery floss colors that match your paint shades well.
Tip
Experiment with drawing directly onto the canvas, especially for whimsical or free-form designs.
Warning
Expect to replace brushes used for needlepoint canvas regularly as the rough canvas will damage your paintbrushes.