Things You'll Need
Yarn

Knitting needles

Measuring tape

Yarn needle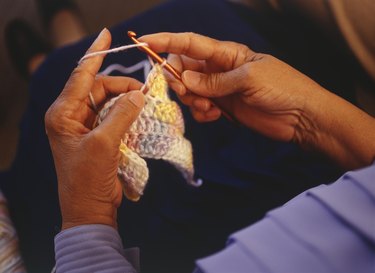 Lap blankets make excellent winter gifts. Because of their smaller, more manageable size, they're perfect for curling up under while reading, watching television, or crafting. Lap blankets are small enough to take along to outdoor winter sporting events, a chilly workplace, or anywhere else you might need a small blanket. If you want a lap blanket for yourself or to give as a gift, make one. Since they are so much smaller than throws or bed quilts, you can make one from half the material and in half the time.
Step 1
Knit a gauge swatch with your yarn using the same stitch you will use for the main part of the blanket. Before you begin making a lap blanket, you must determine how many stitches and rows you will need to create a 3-foot-wide by 5-foot-long blanket, which is the standard lap-blanket size. Knit a 6-inch square, then wash and block.
Step 2
Measure the completed gauge swatch; count how many stitches and rows fit into a 4-inch square. This will determine how many stitches you'll need to cast on and how many rows to knit to create a 3x5-foot (36x60-inch) blanket.
Step 3
Cast on the number of stitches you need for the 3-foot width. To prevent your lap blanket from curling around the edges, create a border in a non-curling stitch as you knit, such as garter or moss stitch.
Step 4
Knit in the non-curling stitch for 2 inches. Then switch back to your main stitch pattern, knitting on the front of your work and purling on the back for the blanket body. Begin and end each row with 2 inches of the non-curling stitch to create the side borders.
Step 5
Work in your main stitch pattern until the blanket measures approximately 4 feet 10 inches in length. Switch to the non-curling stitch for the last 2 inches.
Step 6
Bind off loosely, cut the yarn, thread it through a tapestry needle and weave in the ends.
Tip
You can modify this straightforward blanket pattern by adding cables, stripes, or knitted lace panels.
If you need to knit a blanket in a hurry, use super-bulky yarn and U.S. Size 13 or 15 knitting needles. The thick yarn and needles will significantly reduce the number of stitches you need.
Try using longer straight needles or a cable needle with a long cable to give support to the width of the blanket.
Line the knit blanket with fabric for extra warmth and a unique decorative effect.