Things You'll Need
Vinyl repair kit

Vinyl material

Iron-on vinyl patch

Boating thread

Specialized vinyl needle

Tongue depressor or plastic spatula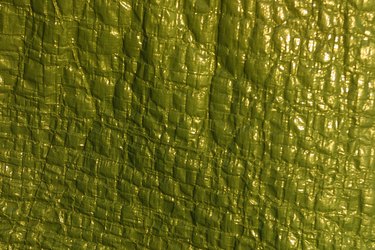 Vinyl fabric is ideal for many uses thanks to its durability and affordability. It is especially useful because you can easily clean it and it is weather-resistant. However, it can be difficult to repair if torn. There are several options you can explore to repair ripped vinyl. These range from using vinyl repair kits, patching using a special needle, or simply using an iron-on patch on the fabric. These options range in affordability and ease of repair, but you can implement any option to repair your vinyl fabric.
Using a Vinyl Repair Kit
Step 1
Clean the area surrounding the rip or hole with warm water. Should the area be stained and require further assistance, try using a liquid soap and spot cleaning the area. Wipe clean with a damp towel and pat dry with a dry paper cloth.
Step 2
Follow the directions according to the repair kit information to blend your desired color. Many kits include some sort of color chart that you can follow to best match your kit to the fabric you are repairing. Use a wood tongue depressor or a plastic spatula to apply. Cover the spot you are repairing with grain paper.
Step 3
Let fully dry before removing the included grain paper. Once the grain paper is removed, it should be virtually impossible to see the previous damage. Allow up to 24 hours to dry for best results.
Patching the Fabric with a Needle
Step 1
Cut a similar piece of vinyl fabric to cover the rip or hole in your fabric. Try to get a fabric color that best matches your vinyl. Even if you cannot get an exact match, a similar toned fabric will be hard to differentiate in most lights.
Step 2
Thread a special vinyl needle with a heavy-duty vinyl thread. These specialized needles are available at most art and hobby stores, as is the thread. A good tip to finding the right thread is looking for the type of thread often used for baot materials.
Step 3
Sew the piece of fabric over the hole in your original fabric. Once you have sewed your way around the fabric by hand, tie a knot in your string and cut off any excess thread.
Using a Vinyl Patch to Repair Fabric
Step 1
Turn your fabric inside out if possible. In this case, you will be applying the patch to the underside of the fabric. If this is not possible, simply lay the patch over the hole in your fabric.
Step 2
Lay a sheet of cotton fabric over the patch to avoid direct contact with the iron and the vinyl. Using a low heat setting with no steam, apply pressure to the patch with your iron. Continue to iron for several minutes, until your fabric has adhered.
Step 3
Let cool and remove the sheet of cotton fabric. Your vinyl should be ready once the patch has completely adhered. Repeat the ironing process should any edges begin to lift.