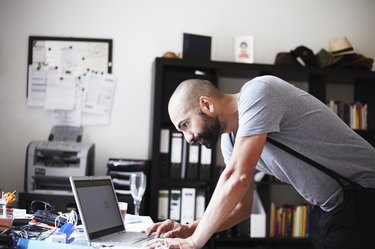 Window clings, which are clear, plastic films that stick to smooth surfaces with static rather than adhesive, are great for temporary signage and decorations. They're especially fun and handy when you design and print your own static-cling stickers. It's a straightforward project if you have basic design software and skills plus the correct window-cling sheets for your home or office inkjet printer. Let your creativity fly and print window clings with any combination of images and text you can imagine.
Supplies to Print Window Clings
If you already have an inkjet printer and a computer or tablet with image-editing or graphics software, all you need to print window clings are the correct window-cling sheets. These are usually transparent, but some brands offer white and colored window-cling sheets, so make sure you're buying the clear version if you want the light to shine through your static-cling stickers.
Search online or in art or office supply stores for window-cling sheets, clear vinyl sheets, static film or window-cling material; different brands use different names for the product. Read the product description carefully to make sure you're buying window-cling sheets for inkjet and not laser printers. Also be aware that the same search terms might display similar products, like adhesive sticker paper or rolls of clear vinyl, rather than sheets to fit a printer.
Designing Static-Cling Stickers
You don't need any kind of advanced design programs or skills to create your own static-cling stickers, although you can use advanced programs, like Photoshop, if you have them. Basic photo-editing software, free online design services like Canva, and even Microsoft Word offer enough image and text-editing functions to be useful for this project.
The design options are endless. You can use photos, art or graphics of your own, copyright-free images you find online or your own digital art from scratch. Add text, borders and special effects if you desire. Consider designs with black line only, which you can print onto window-cling sheets as color-your-own cling stickers for use with markers. Check the size and orientation of your stickers and edit as needed before printing and make sure the resolution is high enough for a quality print, generally at least 300 dpi.
If you're printing multiple stickers, consider the page layout before printing. Positioning multiple sticker designs on the same page with a small margin around them prevents you from wasting the window-cling sheets.
Printing Your Own Static-Cling Stickers
Before hitting "print" for your own static-cling stickers, first decide whether your image needs to be reversed. If you intend to put the stickers on the inside of windows to be viewed from the outside, you need to reverse the text and most images for them to be read correctly. Either reverse the whole sticker using the editing software or go into the print settings and select "mirror," "flip image," "reverse image" or a similar command. Also, select the best printer settings for the paper type, which should be listed in the instructions for your window-cling sheets. Otherwise, select "transparency," "glossy," "transfer" or similar.
Window-cling sheets come with a backing, which you should leave intact before printing, and some kind of text or marker to show which is the printable side. Feed one sheet at a time into your printer, making sure the printable side is facing the correct way. There should be an icon on the printer showing which side of the paper will be printed but check the manual if you're unsure. You might also do a test run with a sheet of regular printer paper. Click "print" and after you successfully print your own static-cling stickers, leave the sheet untouched for several minutes to allow the ink to fully dry.
Using Your Static-Cling Stickers
After the ink has dried on your printed stickers, cut them out as desired with scissors or a paper cutter. Remove the protective film from the back of the cut-out stickers and press them onto a window, mirror or any other smooth surface. Keep the backing pieces for the stickers in case you want to remove them and save them at a later time.