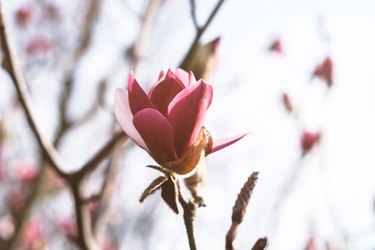 The symbolic magnolia blossom is timeless, revered and associated with the South. The white southern magnolia (Magnolia grandiflora, USDA plant hardiness zones 7 to 9) is the best-known variety, but there are other kinds that can grow in different parts of the country as well. These large and graceful flowers make beautiful flower arrangements, and there are proven methods for picking them and putting them together correctly to make the most of their beauty.
Types of Magnolia Blossoms
The white southern magnolia has the largest flowers, which are bowl-shaped and 12 inches wide. The saucer magnolia (Magnolia × soulangeana, USDA hardiness zones 4 to 9) has pale pink 6-inch flowers, and the sweet bay magnolia (Magnolia virginiana, USDA zones 5 to 10) has 3-inch white blooms. In addition, there's the lily magnolia (Magnolia liliiflora, USDA zones 5 to 8) with its 4-inch pinkish-purple flowers and the Yulan magnolia (Magnolia denudate, USDA zones 6 to 9), which has 5-inch white flowers.
Many of these flowers are native to China, but the star magnolia (Magnolia stellata, USDA zones 4 to 8) is native to Japan, with 4-inch white flowers that resemble oversized daisies. The bigleaf magnolia (Magnolia macrophylla, USDA zones 5 to 8) has impressively large, cream-colored 8-inch blooms and is native to the United States. There are also hybrid magnolias that have pink and yellow flowers.
Picking and Arranging Magnolia Blossoms
It is best to cut magnolia blossoms in the morning or evening rather than in the heat of the day. Choose blossoms that are just beginning to open since these will last the longest. Use a sterilized pair of gardening shears and cut off the blossoms at 45-degree angles, leaving enough of the stems to fit in your vase. Remove most or all of the leaves, as this will provide for better hydration.
Fill your vase with clean water. Some experts dip the cut ends into boiling water, while others singe them to seal in the sap. You can build a foundation with some extra foliage stems, starting with the longest branches first. Take care not to overcrowd the vase.
Small supporting flowers can now be added. Choose colors that will complement the magnolia blossoms. The magnolias are the statement flowers and should be the largest flowers and the center of attention. You can always add more flowers and foliage later if you'd like.
Extending the Life of Magnolia Blooms
These stunning, fragrant flowers do not last that long on their host trees – only about two weeks. These notoriously delicate flowers should last up to a week in a vase once they are cut, but there are several methods you might use to help them last even longer.
After bringing the flowers inside, put them in a container with lukewarm water and cover them with a clear plastic bag to conserve moisture. Place the container in a shaded, cool spot for a few hours. You can also refrigerate it before arranging. Fill your vase with more lukewarm water and add 1 teaspoon of sugar, 1 teaspoon of bleach and 1 cup of lemon-lime soda. Believe it or not, this works as a floral preservative. When arranging these flowers, try not to touch the petals.