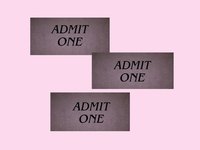 Invite guests to your next bash with fun, printed ticket invitations. Whether you're inviting friends to join a carnival-themed children's party, movie night or other event, this easy process will get you started on designing and printing out invitations modeled after a ticket that grants them admission to the scheduled festivities.
Things You'll Need
Word processing software
Printer
Card stock or glossy paper
On your computer, open up the word processing program. Check to see what invitation templates are already available to use.
If you don't have an admission ticket-style template already on the program, go to Microsoft Office's website (see resources) to browse available templates for tickets. You'll find various styles to fit any type of party from film screenings to raffles to event admissions.
Choose a template and download it to your computer. Some templates even specify which Avery paper models it fits best, making it easier for you when printing and cutting out the invitations.
Customize your ticket invitation by filling in your information and changing any wording or headings that you'd like to change. For example, the heading might say something like "benefit concert," but you can modify that by clicking on the text box, erasing the text, and changing it to a heading appropriate to your event such as "movie screening" or "birthday carnival."
When you are done customizing the text, go back and proofread your information to make sure there are no mistakes. Be sure to include the event type, date, start and end time, address and RSVP information?
Save your work to the computer, and load the printer with plain card stock or glossy paper. The color of the paper can depend on the event, but make sure that the ink color will show up well on the paper.
Print the saved template onto your card stock or glossy paper, and cut out the individual invitations.