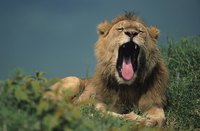 Make your garden roar by adding a bright pop of color in the form of a lion's tail plant (Leonotis leonurus). Hardy in U.S. Department of Agriculture plant hardiness zones 8 through 11, this perennial plant produces tall stems of bright orange flowers that resemble a lion's tail. Lion's tail will reach a maximum average height and width of 6 and 3 feet, respectively, and in warm climates, it will provide color year-round.
Things You'll Need
Balanced, water-soluble fertilizer
Pruning clippers or shears
Prune away overhead branches and move anything that casts shade onto your lion's tail plant. This warmth-loving plant grows and blooms best when it gets full sun, although it will tolerate light shade.
Water the lion's tail when the soil feels dry to the touch. Add water until the soil is thoroughly saturated or, in the case of container plants, until water drains freely from the pot's holes.
Add 1/2 ounce of a balanced, water-soluble fertilizer to 1 gallon of water and use the mixture to water the lion's tail once a week during the growing season. Check the instructions because dilution rates vary by brand. A fertilizer with a rating of 15-15-15 or 20-20-20 will work for lion's tail.
Cut the stem of the lion's tail off right at ground level in the fall, after the flowers have faded. In spring, clip off the flowers by early June to stimulate fall blooming.
Inspect the lion's tail regularly for spots on the leaves, or leaves that are deformed or withering, which are signs of aphids and spider mites. White webbing is a sign of spider mites, while aphids, tiny, pear-shaped insects, tend to cluster under the leaves. Knock the bugs off your lion's tail plant with a strong stream of water from a garden hose, and then let the plant dry in the sun.