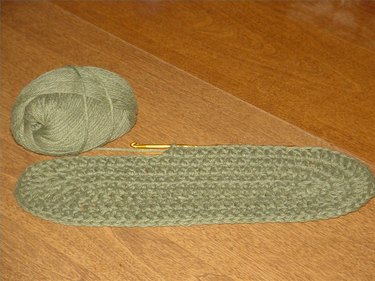 A double crochet stitch can be used to crochet an oval. The oval shape works wonderfully for crocheting doilies, basket liners, and rugs. The overall look of the project can be varied by the weight and color of the yarn selected and the size of the oval crocheted.
Step 1
Make a slipknot and insert the crochet hook into the loop.
Step 2
Chain 25. A chain of 25 gives you a beginning oval that is 8 inches wide (see photo). You can vary the length of the beginning chain to vary the overall appearance of the oval. A wide beginning chain will give you a wide oval. A short beginning chain will yield an oval that is more round in appearance. The width increases approximately 1 inch for every 3 chain stitches.
Step 3
Beginning in the 4th chain from the crochet hook, work back across the chain using the double crochet stitch.
Step 4
In most crochet projects, this step would require that the work be turned. Do not turn the work but continue to double crochet around the side and bottom of the first row of stitches. Continue working in a circular pattern around the outside of the oval, never turning the piece.
Step 5
When crocheting around the sides of the oval, "increase stitch" three times on each side. To increase stitch, double crochet twice in a single stitch of the previous row. The result is two double crochets occurring in one double crochet from the last row. Increase stitching allows the oval to expand and grow in stitches as the oval gets bigger. It will also keep the oval from bunching and gathering.
Step 6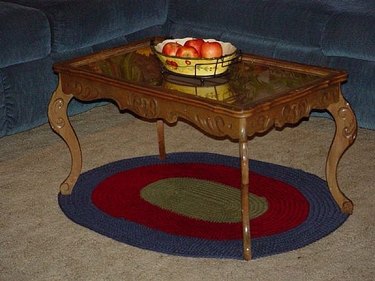 After reaching the 5th row, increase stitch 6 times around each edge of the oval, for a total of 12 increase stitches in each round. Spread the oval out occasionally on a flat surface to ensure it is not gathering.
Tip
You can make a rug by crocheting with 2 or 3 yarns at the same time. You vary the look of your project by adding new yarn colors as you crochet. Using a very loose double crochet stitch as the oval becomes bigger will prevent gathering as well.