With its mildly sweet, nutty flavor and semi-firm texture, red snapper turns melt-in-your-mouth delicious when roasted just right in the oven. Roast red snapper whole or cut up into fillets. Its dark pink and metallic skin gives it an impressive presentation when roasted whole. It is equally tasty in fillet form when seasoned well and baked as is, or encrusted in bread crumbs.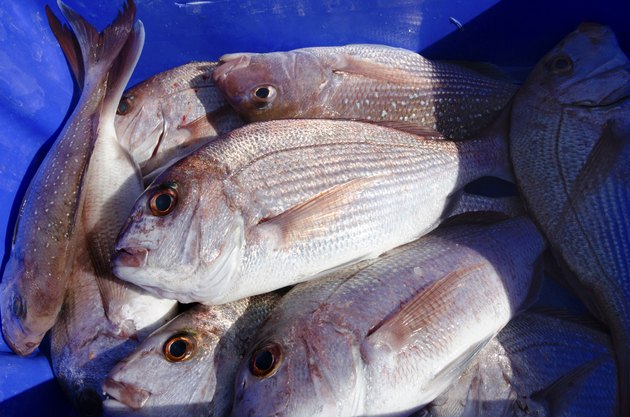 Things You'll Need
Roasting pan

Vegetable oil

Cooking spray

Sharp chef's knife

Olive oil

Salt

Pepper

Dried herbs, optional

Additional seasonings, optional

Food thermometer
Whole Roasted Snapper
Step 1
Preheat the oven to between 375 and 400 degrees Fahrenheit. Lightly grease a shallow roasting pan with oil or cooking spray.
Step 2
Place a scaled and gutted whole snapper on a clean cutting board. Make three to four vertical slits along the length of the snapper, on both sides, using a sharp chef's knife.
Step 3
Drizzle olive oil all over the snapper on both sides, then season to your liking with salt and pepper. Add additional seasonings, such as dried herbs, and minced garlic and onions.
Step 4
Stuff the cavity of the snapper with fresh herbs and aromatics, such as rosemary and thyme sprigs, bay leaves, fennel, garlic and lemon slices.
Step 5
Place the snapper in the lightly oiled roasting pan. Bake in the oven for 10 to 15 minutes per inch of thickness at the thickest part of the fish. The fish is done when the flesh is fully opaque and flakes easily with a fork, or the internal temperature reaches 145 F.
Baked Snapper Fillets
Step 1
Preheat the oven to 400 F. Coat a shallow baking pan with olive oil and place it in the oven to heat.
Step 2
Rinse and pat dry the red snapper fillets, then season generously with salt and pepper.
Step 3
Open the oven and place the snapper fillets, skin side down, into the hot oil in the baking pan. Listen for the fish to sizzle, which ensures a crisp skin.
Step 4
Close the oven and cook the fish until the flesh is fully opaque and flakes easily with a fork, about seven to 10 minutes. Serve the fillets hot, skin side up.
Breaded Snapper Fillets
Step 1
Preheat the oven to 400 F. Rinse the red snapper fillets under cool water and pat them dry with paper towels
Step 2
Set out three shallow bowls and add flour to the first one. Beat an egg in the second one, and add bread crumbs to a third bowl. Use any type of bread crumb, such as plain, Italian-style or panko.
Step 3
Dredge each fish fillet first in the flour, then the egg wash and finally the bread crumbs. Press the bread crumbs gently into the fillets so they adhere.
Step 4
Place the breaded fish fillets on a lightly greased baking pan and place them in the oven. Bake the fillets until the flesh is fully opaque and flakes easily with a fork, or it reaches an internal temperature of at least 145 F.
Tip
Most fishmarkets, especially at grocery stores, will scale and gut the fish for you at your request. Ask them to chop off the head as well, if you prefer.
Panko bread crumbs create a crunchier breading and absorb less oil than traditional bread crumbs. Season them with Parmesan cheese and dried herbs for more flavor.
Bread the fish with other crushed items -- such as crackers or nuts -- for a different flavor and texture.