Things You'll Need
Butter

Microwave-safe cooking dish

Spoon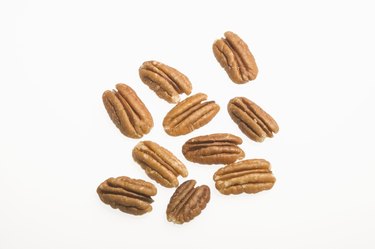 Many recipes call for pecans, so if you see them on sale, it's worth stocking up. Shelled pecans will stay fresh in the refrigerator for up to nine months. Properly sealed in an airtight plastic bag, they will stay fresh in the freezer for up to two years. While some recipes use chopped pecans, others call for toasted pecans. You can toast pecans in the microwave
Step 1
Melt butter in a microwave-safe dish. Use 1 tablespoon of butter per cup of pecans. Melt butter in the microwave on a low setting, checking every 20 seconds.
Step 2
Add pecans to the melted butter and stir well to coat all the pecans.
Step 3
Toast pecans in the microwave on highest setting in one-minute intervals until you see their color darken a little, about two minutes. They will be fragrant.
Step 4
Tip
Pecans may continue to cook for a little while after removing from microwave, so don't overcook.