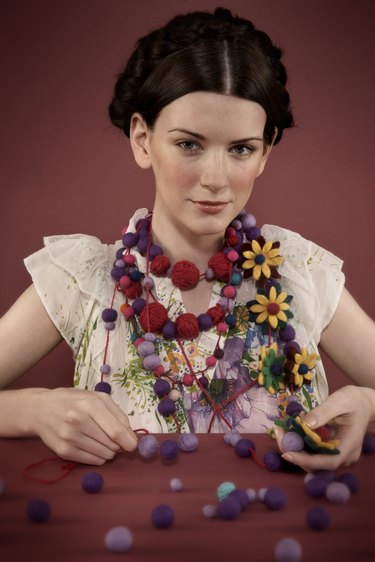 If you own an Internet jewelry business and make your own jewelry, you need good descriptions for your artisan necklaces, earrings and bracelets. The aim is twofold -- to get the customers to land on your page and to clinch the sale. Good product descriptions can make or break your business.
Step 1
Write a title or headline for the description that both draws interest and uses terms that customers might search for, such as "Handcrafted Bridal Pearl Earrings for Your Inner Princess."
Step 2
Specify exactly what is being sold in the listing -- for example, a pair of earrings or a necklace-and-earring set. If it is not already a part of the standard text elsewhere on your store website, include what kind of container (gift box or bag) is included. Include what the item made of, such as 18K gold, sterling silver, mercury-free pewter. Be specific about the types of beads, stones and/or pendants the piece contains, for example, aragonite, clay, horn and abalone shell.
Step 3
Specify whether the materials used are natural, synthetic, reconstituted or cultured in freshwater. Include whether any materials have been heat treated, chemically treated, stabilized or dyed.
Step 4
List the size. Give the length of the strand from end to end or the earring length, and specify where the measurement starts -- such as "from the bottom of the earwire." Specify the sizes, in millimeters, of the major pieces that comprise the jewelry, including the primary beads, any dangles or pendants, and even, if you like, the clasp.
Step 5
Describe what kind of clasp is used, such as lobster claw, box clasp, or toggle clasp. This helps customers who may prefer one clasp type over another.
Step 6
Include any interesting details about the source of the materials or your challenges or inspiration for creating it. If, for instance, the stone in a pendant has an interesting story behind it, tell it. Your customers will be intrigued.
Step 7
Include words people use when searching for jewelry products so that your items appear in search engine results. Describe as much as possible about the jewelry, both in the title and in the description. Think creatively. Your customers will never find your coral bracelet if they search for "chunky coral bracelet" and you never include the word "chunky" in the listing.
Step 8
Read back through your entire description and see what words and phrases you can eliminate. There is a lot to include, but the more concise your listing is, the more likely customers will read from beginning to end. The text should take the place of the salesperson in a brick-and-mortar store or craft show. It shouldn't distract from the jewelry itself.