Things You'll Need
Mailbox

Ultra-fine sanding block

Metal primer

Stencils

Dry erase marker

Acrylic paint

Cloth

Clear sealant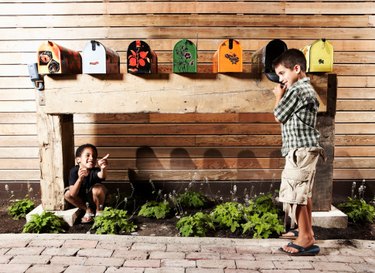 Painting your mailbox will give your home a look that will stand out from the rest. Your decorative mailbox can reflect your personality or match the style of your home. Painted mailboxes can also complement your landscaping. Paint is an easy way to decorate that you can change as often as you like.
Step 1
Sand down your mailbox with a sanding block if the current paint is weathered. You can also start with a brand-new mailbox. If you are starting with a new mailbox, proceed to step 4.
Step 2
Spray a metal primer over the areas you have sanded.
Step 3
Paint the mailbox with the base color of your design. This can be any color you prefer. Use a water-resistant paint made for metal. Allow the paint to dry.
Step 4
Draw the design you want on the mailbox with a dry erase marker. You can also use a stencil as your guide. If you make a mistake, wipe it off and start over.
Step 5
Paint your design with water-resistant acrylic paint made for metal. Allow the paint to dry.
Step 6
Wipe away any dry erase marks that you did not paint over with a clean cloth.
Step 7
Seal your paint with a clear sealant. This will help protect your mailbox design from water and weather.
Tip
You can also paint your post to match your mailbox.
Make sure you can still see the numbers on the mailbox and they are not lost in your design. If you cannot see the numbers on your mailbox, you can usually attach them to the post.
Warning
If you belong to a homeowner's association, check to make sure they do not have any rules regulating your mailbox.