Things You'll Need
1 cup mayonnaise

2 tbsp. creole mustard

2 tbsp. olive oil

1 tbsp. fresh lemon juice

1 tbsp. hot sauce

1 tsp. Worcestershire sauce

Mixing bowl or an electric mixer bowl

Electric mixer or whisk

1 stalk of celery, minced

2 cloves of garlic, minced

1/2 cup finely chopped green onion

2 tbsp. chopped green olives

1/4 cup finely chopped fresh parsley

Salt and ground black pepper to taste

Plastic wrap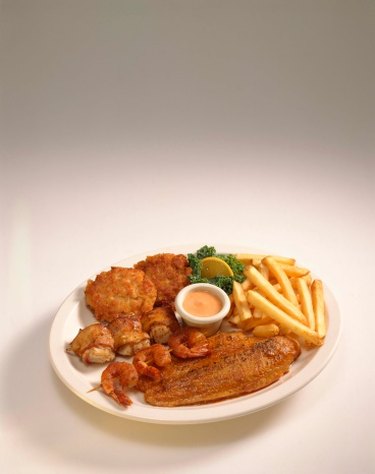 No po'boy sandwich is complete without a dollop or two of creamy remoulade sauce. Remoulade sauce, which features a rich mayonnaise base, is found all over the world but is especially prevalent in a Louisiana creole cuisine. Although remoulade sauce is a condiment meant to enhance flavorful dishes such as fried oysters, shrimp or green tomatoes, it has quite a piquant flavor all on its own. You can make the savory sauce yourself to hold you over until your next visit to New Orleans.
Step 1
Place 1 cup of mayonnaise, 2 tbsp. of creole mustard, 2 tbsp. of olive oil, 1 tbsp. of fresh lemon juice, 1 tbsp. of hot sauce and 1 tsp. of Worcestershire sauce in a mixing bowl or an electric mixer bowl.
Step 2
Mix the ingredients with an electric mixer or whisk them by hand until they are well-blended.
Step 3
Add one stalk of minced celery, two cloves of minced garlic, 1/2 cup of finely chopped green onion, 2 tbsp. of chopped green olives, 1/4 cup of finely chopped fresh parsley and salt and ground black pepper to taste to the sauce and stir well.
Step 4
Cover the sauce with plastic wrap and refrigerate it for an hour before serving, which will allow the flavors to blend and intensify.