Things You'll Need
Marking paint

Shovel

Hard rake

Polyethylene

Utility knife

Mortar (optional)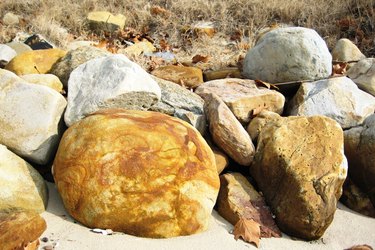 A big yard or small one can be landscaped with river rock because of its varying shape and size. River rock is large enough to use as flat stone, but is available in small shapes and sizes as well. This means that it can be the only rock used in a rock garden and still play all the roles in your design.
Step 1
Mark the areas where the river rock will be used in your specific landscaping idea with marking paint. Excavate the dirt and grass from this area at least 4 inches deep using a shovel.
Step 2
Rake the excavated area with a hard rake until the ground is as level or unlevel as your landscaping idea needs to be. Keep the type of river rock you are using in mind while you rake the soil.
Step 3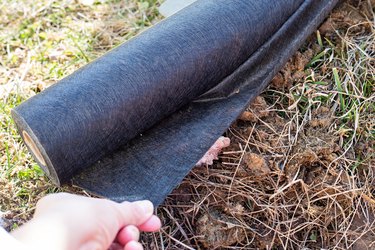 Roll out a piece of black polyethylene covering the excavated area. Push it down around the perimeter and cut it with a utility knife to fit as close to the edges as possible. This will prevent weeds and grass from growing inside the river rock landscaped area.
Step 4
Measure and cut landscape timbers to fit around the perimeter of the excavated area with a circular saw. If the design has curves, cut short pieces of the landscape timber to make the curve look like a curve.
Step 5
Cover the black polyethylene with the river rock until it meets the top of the landscape timbers. Rake the river rock until it meets your satisfaction.
Tip
If the landscaped area is wider than the polyethylene, overlap the pieces at least 12 inches.
Use this method to create steps in a hillside.
Excavate the area 6 inches and add a 2-inch bed of gravel to put the river rock in mortar.
Warning
Do not leave tools unattended in the presence of children.
Do not excavate if there is a possibility of underground utilities in the chosen area.