Things You'll Need
Birthday card

Birthday cake

Your imagination

Your creativity
Your husband's big five-oh birthday is just around the corner and you're not sure how to celebrate it. It's a biggie, so you'll want to do something exciting and memorable. These suggestions are sure to get your creative juices flowing so you'll remember his birthday for the next 50 years!
Step 1
Start off by asking him what he wants to do to get an idea of how he would like to celebrate his birthday. This will give you a good starting place for how you want to plan the celebration.
Step 2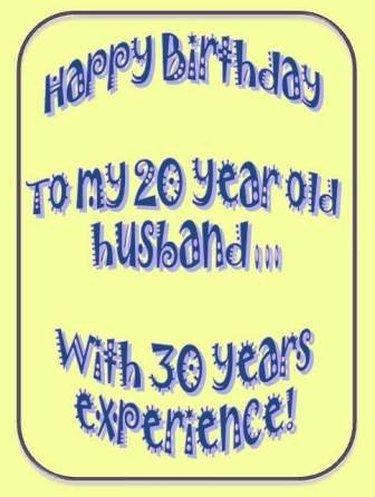 Instead of buying him a card, make him a unique handmade one with your own special message. Perhaps stick a picture of him on the front of the card from when you first met, or one of him as a baby or a small child.
Step 3
Bake him a cake! Decorate it with 50 candles or candles arranged in a "50". Make him laugh by having a hair dryer on standby in case he can't blow them all out!
Step 4
If available, look through his old photographs and other memorabilia. It will be fun to take a trip through his childhood memories as he reminisces.
Step 5
Plan a family get-together, a surprise party with his old school friends, or throw a 50's themed party - put up party decorations, hire a jukebox, and if you don't want to wear your beehive wig, poodle skirt and leather jacket, you can always do your best Marilyn Monroe impersonation. Convince your husband to dress up as Elvis! So put on your favorite rock 'n roll tunes and dance the night away.
Step 6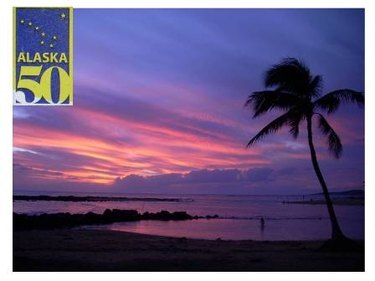 If you can afford to, travel to a location that is also celebrating its 50th birthday, e.g. Alaska and Hawaii celebrated 50 years of statehood last year, so find a truly special place where you can celebrate in style!
Step 7
If you can afford to, buy him a gift. If he's a bookworm, think of a novel by his favorite author, or get a greatest hits CD of his favorite group, or a DVD set of his best TV series or movie genre. How about a new grill, or if he's an electronics or gadget guy, why not opt for the latest iPhone, iPod, GPS, or computer game? What about a knife set, or some tools or a new drill if he's a DIY guy, or tickets to his watch his favorite game if he's a sports fanatic? Alternatively, you can buy him a gift card or gift voucher and he can choose his own toys.
Step 8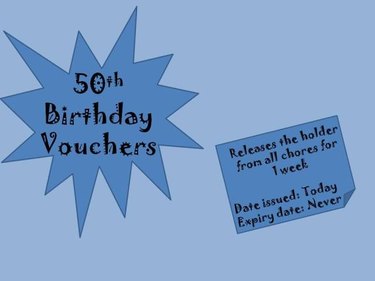 Better yet - why don't you make him a handmade gift? One suggestion is to make him a book of 50 vouchers, or "favors" that you or your family will do for him. Ideas for favors include chores that he normally does around the house, e.g. washing the dishes or unpacking the dishwasher, taking out the trash, feeding the pets, mowing the lawn, or washing the cars. Make your own video wishing him a happy birthday, or string together a PowerPoint slideshow using old photographs and add music to it.
Tip
You probably know your husband better than anyone else does, so you'll be able to come up with your own ideas that are perfectly suited to him. Have fun while you prepare for and celebrate his birthday to make it a truly special and memorable occasion. You don't need to limit these ideas to a 50th birthday - adapt them for any age birthday celebration.