If you suffer from yeast allergies or are on a special diet to combat or prevent an overgrowth of the Candida albicans fungus in your body, you may have to avoid breads made with yeast. This yeast-free, sweet bread recipe will allow you to enjoy warm, fresh bread.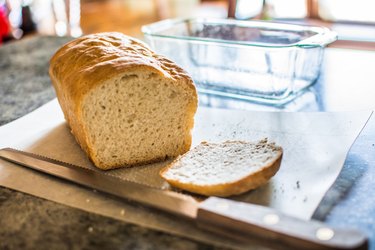 Things You'll Need
2 1/2 cups self-rising flour

2 tablespoons white sugar

12-ounce can of 7UP
Step 1
Preheat your oven to 350 F.
Step 2
Grease and lightly flour a loaf pan.
Step 3
Combine the self-rising flour, sugar and 7UP. Mix together and place the dough into the loaf pan. For instructions on making your own self-rising flour, see the Resources section below.
Step 4
Place into the oven and bake for 45 minutes or until golden brown.