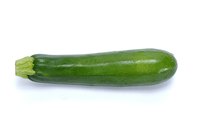 So you had a bumper crop of zucchini and you think it would be nice to save some to make fresh zucchini bread later in the year, perhaps during the coldest days of winter. The process of freezing summer squash is simple, and you'll be able to enjoy your bounty for months to come.
Things You'll Need
Blanching pot
Potato peeler
Sharp knife
Spoon
Grater
Bowl or plate
Measuring cup
Freezer bags
Wash the zucchini and cut off the stem.
Peel the zucchini with a potato peeler or knife if you make your zucchini bread without the peel. If you use the peeling in your zucchini bread, do not peel it.
Cut the zucchini lengthwise. Use a tablespoon or serving spoon to scoop out the seeds. Discard the seeds or save for roasting. Cut off any dark spots or defects the zucchini has before shredding.
Hold the zucchini over a plate or bowl and shred the zucchini.
Add water to the blanching pot, but keep the level below the steaming basket. Place on the stove and bring to a boil.
Add small quantities at a time to the steaming basket and blanch for one to two minutes. Remove from the steaming basket.
Measure the amount of zucchini you need for your zucchini bread recipe and place in a freezer bag. Lay the bags flat in the freezer.