Traditionally, a backsplash is a tiled wall surface located behind certain kitchen areas that helps protect the wall from sink and oven splashes or splatters from food preparation stations. Most of the time, tiled backsplashes are also quite decorative. If you like the look of a tile backsplash but do not want the hassle of actually installing tile, you can opt for a faux backsplash effect by painting the area instead of tiling it.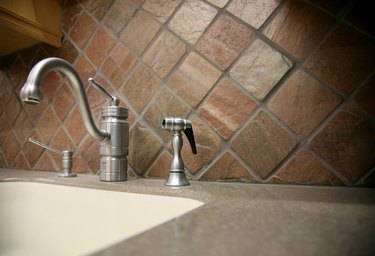 Things You'll Need
Ruler

Pencil

Paintbrush

Painter'S Tape

Trowel

Glossy Finish

Paint Roller

Drywall Compound
Step 1
Apply painter's tape all around the area of your kitchen where you plan to paint on the backsplash. You don't want any paint to get beyond that perimeter.
Step 2
Apply one layer of paint using a paint roller. This paint will represent the grout lines of the faux tile look, so choose white, gray or black. Wait for the paint to dry.
Step 3
Draw your faux tile design onto the backsplash area with a pencil. Use a ruler to get the lines perfectly even, just like tile. Don't forget to include 1/8 inch thick grout lines in your design.
Step 4
Put 1/8 inch painter's tape across the faux backsplash to represent the grout lines.
Step 5
Apply drywall compound in between the painter's tape grout lines using a trowel. This compound should be about 1/8 to 1/4 inch thick because it will represent the faux tile. Smooth over the compound with your trowel.
Step 6
Remove the painter's tape grout lines once the drywall compound has dried. Let the compound cure for 24 hours before continuing.
Step 7
Reapply the painter's tape grout lines. Roll on a paint primer over all the drywall compound tiles.
Step 8
Paint the tiles once the primer dries using a paintbrush. Paint tiles varying colors to create a pattern.
Step 9
Add a glossy finish to the tiles once the paint is dry to complete the tile look. Once the finish is dry, remove all of the painter's tape.