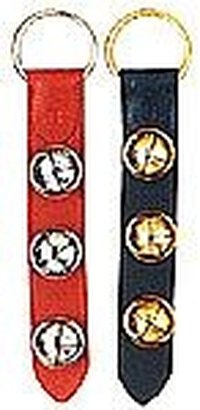 Years ago, bells were used in shops and other public places. This was to announce a customer or other person coming in if the shopkeeper was at the back of the store. They are still used for small stores and in some people's homes. These may be holiday bells as part of a decoration, a single cow bell, or any number of other kinds. These bells come in all variety of sounds and appearance. Most of them are extremely sensitive to motion. They will notify you if the front door, or any door is opened as they sound at the slightest movement if hung correctly.
For outside property, hanging bells have the same function. For gates, side doors to the house, barn doors, corral doors, pet areas, storage shed or tool shed doors, LONG-DISTANCE cow bells can be heard for blocks. For fenced-in back yards, they can be installed easily on invisible fishing line strung along the inside of the fence, with beautiful painted or copper bells at intervals around the perimeter. Anyone attempting to climb over your fence at night will not see the nylon filament, but one jostle of the line will set long-distance cow bells singing, and very loudly.
See below for some ideas and suggestions as to where you can get bells of different kinds.
Things You'll Need
Velcro type fasteners
Bells (the more the merrier!)
Fishing line (nylon filament) for fences
Check in your local craft stores for bells of all sizes. They oftentimes carry decorative cowbells, small decorative ones and Christmas bells. The smaller bells work well with pet doors, and it helps the homeowner know when the dog or cat is going in or out. It helps the pet owner stay more aware of the pet's activities, and will alert them to periods of time when the ringing has not been heard. One good source for bells is www.Thebellpeople.com.

Hang bells on entrance doors. For front doors, smaller bells would also work well as part of a decoration or by themselves. Sometimes simple bells with ribbons or a non-seasonal wreath looks very nice, and they can be painted to match the door or decoration without it looking like a holiday. It is important to choose a size that doesn't overwhelm the homeowner, so more delicate-sounding bells work best inside the home.

Buy in quantity for the yard. Cow bells, both long-distance and regular can be found online. You can buy them in any amount you like, and to cover an average-sized back yard, you may think in terms of two to three dozen or more, depending on the length of the backyard fence. They come in a variety of colors and sizes and are very reasonable in price. They look nice in the daytime, and provide security for the homeowner. They also can notify someone if the dog is jumping over the fence again or children have gotten the gate open to the swimming pool or other restricted area. www.Bell-outlet.com is another good site for bells.