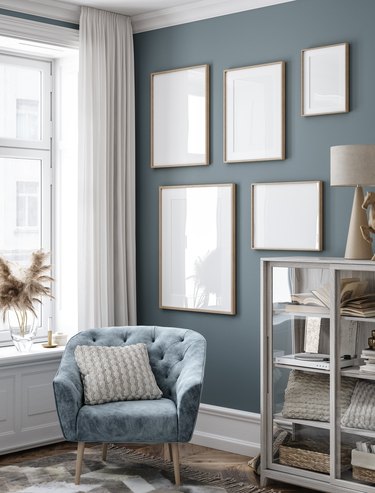 Displaying your most treasured memories by framing pictures is a beautiful way to decorate your home and remind you of happy moments at the same time. It isn't always cheap, though, so having a good picture framing cost estimator or picture framing cost calculator can be very handy. Of course, different companies charge a different amount of money, but some basic rules of thumb and pieces of information can make these estimations more accurate.
The truth is that custom framing can cost anywhere from under $50 to several hundred or more. The price varies based on the quality of the frame, the size of the picture, the type of matting and several other factors.
Still, one fundamental piece of information within your control is the size of the picture or object you want to frame. Carefully measure it, taking note of its length and width in inches, and measure to within 1/4-inch accuracy. Once you have that exact size, you can start browsing online.
Picture Framing Price Calculator
After taking measurements, you can decide whether you want a mat for your picture. The mat can make the image stand out and look nicer, but it will also add to the size of the frame and therefore the cost. If you decide that you do want one, add the size of the mat to get an idea of the cost of the framing.
Next, browse online for custom frames and framing. Since you know the size of the frame you want, you can even use online estimators to get a clearer idea of how much it will cost. These are likely to be specific to individual retailers or stores.
Be sure to shop around. Even if the price isn't a factor, you want to visit multiple sites to ensure that you find the perfect frame and don't overpay or underpay depending on quality.
After Finding the Perfect Frame
Once you decide on your perfect frame, enter the dimensions of the photo or picture and the mat to the nearest 1/4 inch. Choose your mat and add the price of the mat to the framing. In addition, find out whether the framing company supplies the hardware you'll need to hang the frame. If not, add that to your costs.
Remember that a custom framing cost calculator always has room for error because minor factors can drive up the price unexpectedly. In addition, you may incur labor, assembly and shipping costs as well as sales tax. Once you know which additional fees the company charges, you can use a standard calculator to add up everything, and you'll have your total cost for custom framing.
Of course, you don't have to hire a custom framing company to have a beautifully framed picture. You can do it yourself, but you'll probably be constrained to standard picture frame sizes, such as 5 inches by 7 inches, 8.5 inches by 11 inches and 24 inches by 36 inches. To do so, you'll follow much the same process: measure your item, decide on matting and choose a frame. Don't forget to order the hardware that you need as well.
Are you wondering about the best place to buy picture frames online? You can shop craft stores, like Michael's, home furnishing discount sites, like Wayfair, and big-box stores, like Target.