Things You'll Need
(3) 2 x 6 x 10 salt treated lumber (based on an 8 foot by 7 foot garage door)

Circular Saw

16 penny nails

Hammer

Measuring tape

6 foot level

8 foot step ladder

Helper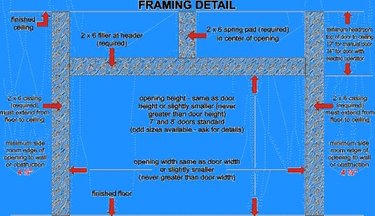 Most garage door openings are just rough openings when the home is built. The opening must be finished framed before a garage door can be installed. The technique of building a garage door frame is straightforward, and a finished frame can be completed in an hour.
Step 1
Determine the size of the garage door to be installed. The finished opening needs to be the same size as the garage door itself.
Step 2
The jambs need to be 17 inches taller than the garage door height. For a seven foot tall garage door the jamb must be eight feet four inches tall. Cut two of the salt treated lumber to this measurement with a circular saw.
Step 3
Measure the rough opening to see if it is the correct size. Divide the overage by two and space the jamb accordingly. For example, if the door is eight feet wide and the rough opening is eight foot four inches, the jambs will be set with a two inch overhang on each side.
Step 4
Using 16 penny nails, attach the jamb boards at the top and bottom. Make sure the jambs are plumb by using a six foot level. After they are plumb, finish nailing the jamb board securely to the frame.
Step 5
Measure the distance between the two jambs at the top of the header. Cut the next piece of salt treated lumber to this measurement.
Step 6
With the help of a friend, position the header board between the jambs and nail it into place.
Step 7
Measure for dead center between the jamb at the top of the jamb boards and at the top of the header board and mark with a pencil.
Step 8
Cut a piece of scrap salt treated lumber at 14 inches.
Step 9
Nail this piece at the center of the opening vertically above the header board.
Tip
Salt treated limber should be used for framing. It will last much longer than untreated lumber.
When buying lumber, purchase three pieces that are at least one foot longer than your door height. This will give you plenty of material for the job