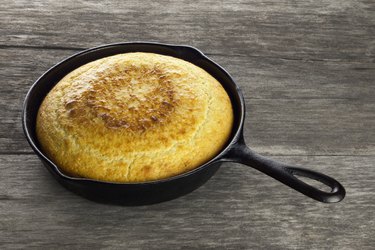 Start to Finish: 40 minutes Servings: 6 Difficulty Level: Beginner
Traditionally made with white cornmeal and baked in a cast-iron skillet, Southern-style cornbread has a light, modestly crumbly interior and crispy golden-brown crust. A wedge of cornbread is the time-honored way to soak up tasty juices of collard greens, slow-cooked meat dishes and other soul food. You don't add sugar to Southern cornbread but you do use buttermilk and coat the skillet with bacon drippings for authentic flavor and texture.
Ingredients
1 tablespoon bacon drippings
1 1/2 cups buttermilk
1 egg
1 cup white cornmeal
1/2 cup unbleached white flour
1 teaspoon baking soda
1 teaspoon baking powder
1/2 teaspoon salt
Directions
Preheat the oven to 400 degrees Fahrenheit.
Set the skillet in the oven for 10 minutes or until the bacon fat sizzles, as you mix the cornbread ingredients.
Mix the buttermilk and egg with a metal whisk until they are well blended and slightly frothy.
Stir in the cornmeal, mixing until it is thoroughly blended with the milk and egg.
Add the flour, baking powder and salt to the bowl. Fold the dry ingredients gently into the moist mixture.
Remove the skillet from the oven and pour the cornbread mixture into the hot pan. Smooth the batter with the back of the stirring spoon for even thickness across the skillet surface.
Promptly return the skillet to the oven and bake for 20 minutes or until the top of the cornbread is a deep golden brown.
Tips and Serving Suggestions
If you prefer not to use bacon drippings, substitute solid white vegetable shortening to coat the cast-iron skillet.
Both baking powder and baking soda – which interacts with the acidity of the buttermilk – promote a fluffy texture and consistent leavening throughout the batter.
The finished cornbread typically is cut in wedges and taken to the table in the hot skillet to keep it warm. Alternatively, tip the cornbread out of the pan, cut it and stack it on a plate to pass around the table.
Specialty cornbread skillets made with dividers when the iron is cast are available and yield six cornbread wedges without cutting. Each section must be coated individually with drippings or shortening before heating the pan and baking.
Warnings
Use oven mitts with a reinforced heat-resistant palm to protect yourself from burns when placing the iron skillet in the preheated oven, when you remove it to add the batter and when the cornbread is done. In addition to oven mitts that extend above the wrist, consider wearing a long-sleeve shirt to protect skin from the potential popping of hot drippings or shortening when you add the cornbread batter to the skillet.
Place the hot skillet on a heatproof surface or hot pad when spooning the batter into it, when you cut the cornbread for serving and when you place it on the table.